5.0L 4V TI-VCT MUSTANG BOSS 302 CRATE ENGINE
This part is no longer available.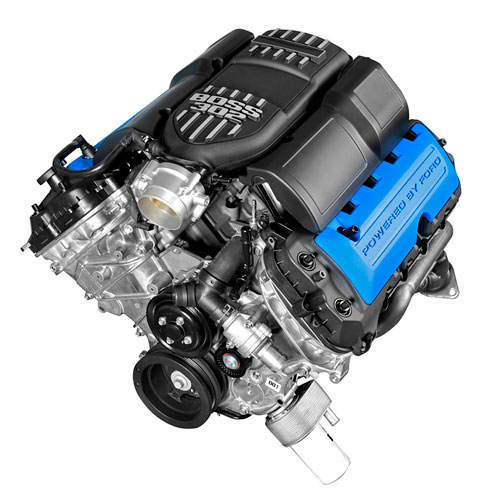 M-6007-M50B
Instruction Sheet
Not Available

Ford Racing's aluminum 5.0L Mustang Boss 302 crate engine takes the Ti-VCT 5.0L engine to the next level of performance with high flow CNC cylinder heads and revised intake to deliver 444 horsepower and 380 ft.-lb.+ of torque (with premium fuel). The lightweight aluminum cylinder block features cross-bolted main bearing caps and thick main bearing bulkheads for bottom-end strength. For the track, the oil pan features a large sump 8 qt capacity with revised oil pan baffling for improved oil control under hard cornering.
High-performance 5.0L 4V Ti-VCT engine
444 hp @ 7400 RPM
380 lb-ft of torque @ 4500 RPM
Displacement 302 cu. in.
3.63" bore x 3.65" stroke
Aluminum block
Forged steel crankshaft
Upgraded sinter-forged connecting rods for improved strength
Forged aluminum pistons
Variable intake and exhaust camshaft timing
High-strength aluminum-alloy DOHC cylinder heads with fully CNC-machined ports and chambers for exceptional high-rpm airflow without sacrificing low-speed torque
Sodium-filled exhaust valves for improved heat dissipation
11.0:1 compression ratio

Revised composite intake system with shorter runners, inspired by Ford Racing's Daytona Prototype engine program

80 mm single bore "drive by wire" throttlebody

Mustang 409 stainless-steel tubular exhaust manifolds

Includes manual transmission engine harness and flywheel

8 qt capacity oil pan

Vehicle harness and PCM not included.
Can be used with Ford Racing's wiring, PCM and installation kit M-6017-A504V with minor modifications and custom calibration.
Does not include alternator, for alternator kit see M-8600-M50BALT
Remote Mount Filter Adapter M-6881-M50 available for applications requiring oil filter relocation
Boss 302 crate engine shown with optional Ford blue coil pack covers FRPP part # : M-6P067-M50B and NVH insulator pads, Ford dealer part # :CR3Z-6N041-A. sold separately.

Engine mount bosses and bellhousing mount pattern common to 4.6L modular engines.

Photo and specs may vary.

Engine weight: 444 lbs
Part Type
Engine: Complete Engines
Warranty Availability
Not Available
Packaged Dimensions
36.5" x 40.5" x 36
Packaged Weight
568 lb(s)