BOSS 302S & 302R - The ultimate turnkey race cars
Forty years ago, the original Mustang BOSS 302 became a road racing legend. Now, the new BOSS 302R from Ford Performance is adding another illustrious chapter to the legend. Production of no more than 50 BOSS 302Rs is planned. While they are serialized, these cars are definitely not street legal - the are proper, full-fledged race cars, ready to race in several classes of Grand-Am, SCCA and NASA road racing.
The Boss 302S is an entry level, purpose built road racing Mustang from Ford Performance. The car was designed to appeal to many levels of road racing enthusiasts. The Boss 302S is competitively priced considering its level of engineering and competitiveness. In addition to being a very capable open track car, NASA and the SCCA have approved the 302S to compete in both American Iron and the World Challenge GTS class.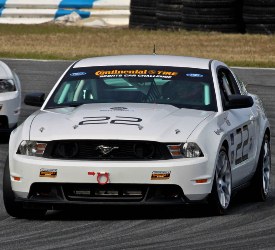 2014 MUSTANG BOSS 302R - GRAND-AM CONTINENTAL TIRE SPORTS CAR CHALLENGE
M-FR500-BOSSR1A
MSRP $134,995.00
POWERTRAIN
Ford Performance 5.0L V8, four valves/cyl.
Ford Performance TTC close ratio 6-speed transmission
3.55:1, 8.8" Torsen® T-2R limited-slip differential
Ford Performance clutch
Unique engine calibration
CHASSIS
Seam-welded Ford steel unibody, integrated safety cage
Structural performance: over 20,000 lb-ft/degree (torsional)
FRONT SUSPENSION
Ride-height-adjustable AST inverted coil-over struts, compression and rebound adjustable dampers
Adjustable caster/camber plate
Front lower control arms with Delrin® bushing kit
Adjustable sway bar
REAR SUSPENSION
Multimatic 3 link with adjustable panhard bar
AST coil-over dampers; tubular lower control arms with urethane bushings
STEERING
Electric power-assist with unique Ford Performance calibration
BRAKES
Front: Brembo®, 4-piston calipers
Rear: Ford, stock
Unique Ford Performance ABS calibration
PFC brake pads
WHEELS
BBS 18" x 10", front and rear
FUEL SYSTEM
ATL 22-gallon, custom dualdry-break fuel cell
Walbro® 255 L/H fuel pumps
SK fuel pressure regulator
ANCILLARIES
Aluminum radiator with separate oil cooler
Ford Performance electrical harness
Ford Performance exhaust system
SPA cableactivated extinguisher
Recaro position-adjustable racing seat
SPARCO® quick-release steering wheel
Sabelt 6-point safety harness, HANS®-compatible
Center-mount console switches
AIM digital dash system – data logging and display
Available in Performance White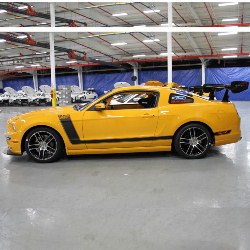 2014 MUSTANG BOSS 302S - PLACEHOLDER PART NUMBER
M-FR500-B302S
MSRP $89,995.00
POWERTRAIN
5.0L, 4-valve BOSSR V8 unique Ford Performance engine calibration
Engine oil cooler
BOSS 302 fuel system
Upgraded cooling system
FR1 mufflers
6-speed transmission
Torsen® limited-slip differential, 3.73:1 final-drive ratio
CHASSIS
Ford steel unibody with FIA-spec, 6-point integrated roll cage
FRONT SUSPENSION
Coil-over struts
Front lower control arms with Delrin® bushing kit
FR adjustable front stabilizer bar
Camber plates
REAR SUSPENSION
Coil-over dampers
Tubular lower control arms with spherical bearings
FR stabilizer bar
STEERING
Electric power-assist with unique Ford Performance calibration BRAKES
Brembo® front system with 4-piston calipers
2-piece, 14" front rotors
12" rear rotors
PFC racing pads
Brake duct kit
Stainless steel brake lines
FR brake booster assembly
Unique FR ABS calibration
ELECTRICAL
Lightened FR wiring harness
AMB transponder
Switch plate – start/ignition, aux switches
INTERIOR
AIM data acquisition system with GPS
Recaro HANS® Pro Racer seat
Fire system with 2 nozzles
Quick-release racing steering wheel
Window net
Safety system triangle nets
6-point racing harness
Master cutoff switch
Center-mount dash switches
EXTERIOR
FR front splitter
Carbon-fiber adjustable rear wing
Unique carbon fiber hood with air extractors and pins
19" x 9" front wheels
19" x 10" rear wheels
Available in School Bus Yellow or Performance White
BOSS 302S graphics package
Front and rear tow hooks