2011-14 MUSTANG GT FORD PERF CAL W/HIGH FLOW K&N AIR FILTER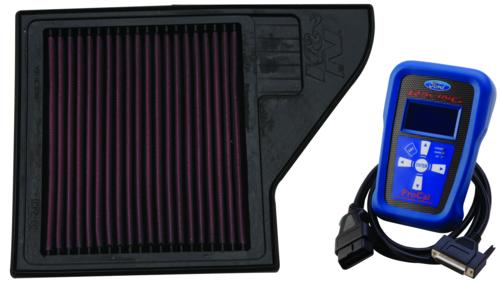 M-9603-MGTB
Sold in Units of
Each (1)
Instruction Sheet
Not Available

The "Fifty States Street Legal" icon means that this part has been determined by the California Air Resources Board (CARB) not to have an adverse effect on emissions when installed and used properly in the application(s) identified in the product description. Under EPA and CARB policy, such parts may be installed in vehicles driven on public roads and highways.

Fits 2011-2014 Mustang GT

Approximate peak increase of 16 hp and 7 lb-ft on 93 octane fuel



Up to 60 lb-ft increase at 1500 rpm!

Eliminates "skip-shift" on 2011-2012 manual transmission applications

Kit includes:

Ford Performance ProCal 2 tool with performance calibration

2010-2014 Mustang GT High Flow K&N / Ford Racing

Air Filter M-9601-MGT
Premium (91 octane or higher) fuel only
Due to multiple powertrain calibrations, online registration is required to receive ProCal calibration delivery tool after purchase.

Ford Performance does not ship ProCal tools directly overseas. Customers must make special arrangements with their Ford Performance Distributor.
Powertrain calibrations are developed and supported for U.S. and Canadian vehicles only
Unlike many of our competitors, this Ford Performance Power Upgrade Package is 50 state emissions legal and eligible for limited warranty when installed by a Ford or Lincoln Dealer
Federal and state laws prohibit any person from installing aftermarket add-on or modified parts prior to the sale of a new motor vehicle
Part Type
Engine: Power Packs
Warranty Availability
Not Available
Package Dimensions
13.5" x 3.75" x 13.75"
Country of Origin
United States