RIGID® OFF-ROAD UNDER BODY/ROCK LIGHT KIT-WHITE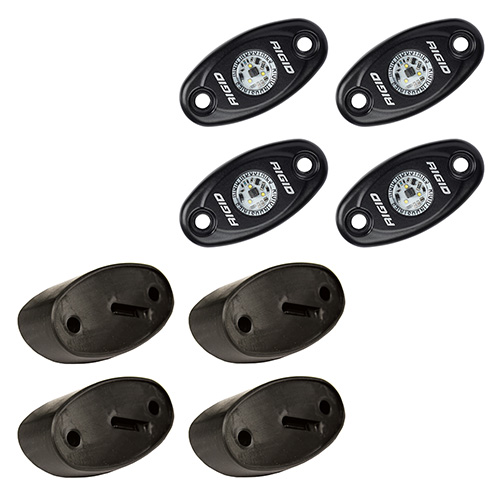 These lights are mounted in the wheel well or other strategic locations to enable off-road vehicles to illuminate trails as well as difficult, rocky terrain. Perfect for Overlanding.
This kit contains 4) RIGID® LED Rock Lights (White light) plus 15-foot leads to each light, power distribution block, switch, and light mounts. RIGID® Rock Lights contain a high quality black aluminum housing with a durable polycarbonate lens.
The same kit as
M-15200-RUNA
, but with white lights rather than Amber
Note: Due to multiple mounting options, specific mounting hardware are not included.
Notes:
Warning-this part has been designed and is intended for off-highway application only. Installation on a vehicle intended for use on public roads may violate U.S., Canadian, state or provincial laws and regulations including those relating to emission requirements and motor vehicle safety standards. In addition, installation of this part may adversely affect the warranty coverage on your vehicle.
Part Type
Electrical: Auxiliary Lights
Warranty Availability
Not Available
Package Dimensions
6.5" x 6.5" x 13"
Country of Origin
United States