2016-2018 FOCUS RS DRIFT STICK
This part is no longer available.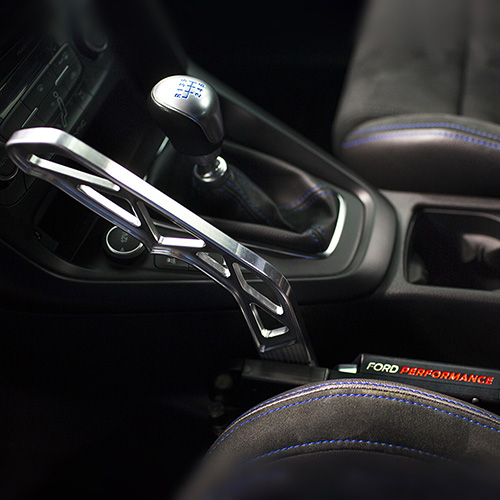 Fits 2016-2018 Focus RS
World's first electronically controlled performance drift stick
Developed and fully tested by the Ford Performance Vehicle and Parts Teams
Inspired by Rally Racing, the Ford Performance Drift Stick provides a way to perform large-angle drifts in the Focus RS
Simple bolt-in/plug-and-play installation and removal. Connects to the hand brake, seat track, and OBD-II port on the vehicle
Uses the AWD and ABS systems to open the rear-drive unit clutches and apply hydraulic pressure to lock the rear wheels, inducing drift with a simple pull of the lever. Results in clutch-free drift turns similar to those in a real rally car
This kit-requires laptop and internet access for calibration install
Available for LHD North America vehicles only
For off-road use only
WARNING: This part has been designed and is intended for off-road use only (closed course and track events). This part should be removed for on-road vehicle use (minimum: disconnect strut and electrical connection). The driver is always responsible to drive in accordance with local laws and prevailing conditions. Failure to do so could result in accident or injury.
Part Type
Chassis: Brake Kits / Components
Warranty Availability
Not Available
Package Dimensions
16" x 6" x 16"
Country of Origin
United States