Due to COVID-19 staffing precautions, the Ford Performance TechLine phone system is offline. We are still here to help. Live Chat is available. Click here for contact information.
2.0L FOCUS ST ECOBOOST ENGINE ORIENTATION KIT
This part is no longer available.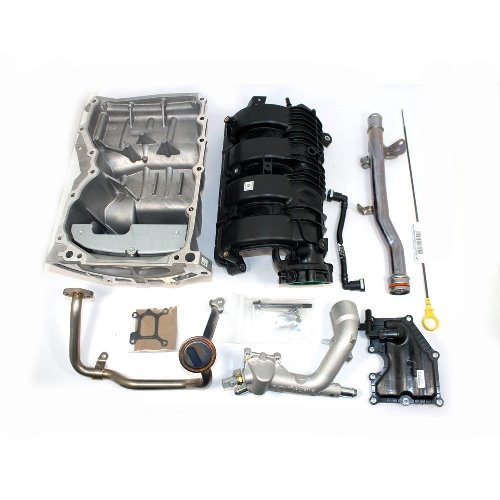 M-6006-20
Instruction Sheet
Not Available
2.0L Focus ST engine orientation change kit. Includes all the necessary components to mount the 2.0L Focus ST engine in a North/South or longitudinal orientation. High flow intake manifold, water outlet components and seals, Oil pan and oil pick-up tube, PCV components, all necessary unique fasteners. Intake manifold requires small modification to mount 2.0L Focus ST throttle body.
Kit includes OEM components:
OIL PICK-UP TUBE O-RING

Main BEARING CAP STUDBOLT

OIL PICK-UP TUBE

OIL PAN

OIL DIPSTICK

OIL SEPARATOR

PCV TUBE

WATER OUTLET GASKET

COOLANT CONNECTOR

WATER OUTLET

INTAKE MANIFOLD

OIL PICK-UP TUBE FASTENERS

COOLANT CONNECTOR FASTENER



Part Type
Engine: Overhaul Kits
Warranty Availability
Not Available
Packaged Dimensions
14" x 20" x 29
Packaged Weight
26.6 lb(s)
Country of Origin
United States