2.3L ECOBOOST MUSTANG HIGH PERFORMANCE TURBOCHARGER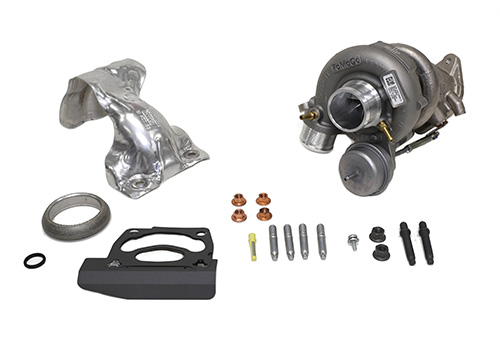 As used on Mustang EcoBoost equipped with High Performance package, these are turbochargers that will deliver a power improvement in 2015-2021 model year non-HO EcoBoost models.
The kit includes the production turbochargers and all hardware to perform the installation.
50mm wheel turbine wheel
Compressor wheel increased from 60mm (production Mustang) to 63mm
Compressor housing volute is enlarged to work efficiently with a larger volume of air
Pairs well with the Ford Performance M-6250-23EBH camshafts
Note: Aftermarket engine calibration necessary to prevent engine damage! For off-road use only.
Part Type
Engine: Intake Related
Warranty Availability
Not Available
Package Dimensions
16" x 15" x 16.5"
Package Weight
23.55 lb(s)
Country of Origin
Romania