5.0L COBRA JET COLD AIR KIT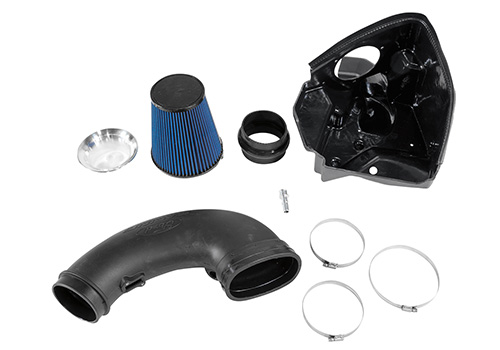 M-9603-M50CJ
Sold in Units of
Each (1)
WARNING:

This part is designed and intended for competition use only or off-highway use only. It should not be installed on a vehicle that is driven on public roads and highways. Installation of this part on a vehicle driven on public roads and highways is likely to violate U.S. and Canadian laws and regulations relating to motor vehicle emissions.

Fits 2011-2014 Mustang GT and 2012-2013 Boss 302 with Cobra Jet 5.0L Intake Manifold M-9424-M50CJ
Intake manifold requires throttle body M-9926-MSVT, M-9926-CJ65 or M-9926-SCJ
High flow filter, high flow molded plastic air filter bucket and unique clean-air inlet tube with Ford Racing logo.
102mm air inlet diameter
Design based on 5.0L NA Cobra Jet race car
2013-2014 Mustang GT heat extractor may allow drainage of water onto air filter. Modify as necessary.
Calibration is necessary to prevent engine damage! Calibration not included!
Note: CJ inlet tube does not have provisions for aspirator tube hook up common to automatic transmission equipped 2011-2014 Mustang GT.
Part Type
Electrical: Air Metering
Warranty Availability
Not Available
Package Dimensions
20.25" x 13.25" x 20"
Package Weight
11.9 lb(s)
Country of Origin
United States