2015-2023 MUSTANG TRACK STRUT AND SHOCK KIT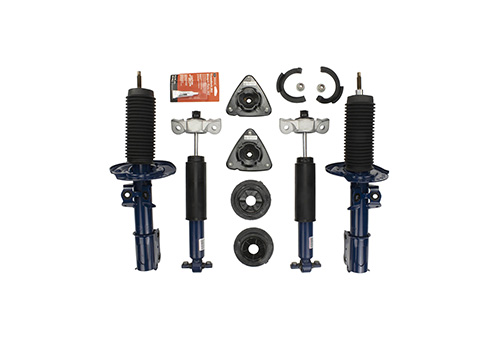 M-18000-F
Sold in Units of
Each (1)
Instruction Sheet
Not Available

The "Fifty States Street Legal" icon means that this part has been determined by the California Air Resources Board (CARB) not to have an adverse effect on emissions when installed and used properly in the application(s) identified in the product description. Under EPA and CARB policy, such parts may be installed in vehicles driven on public roads and highways.

Fits 2015-2023

Mustang GT and 2.3L EcoBoost Coupes

and Convertibles
Designed specifically as part of the M-FR3A-M8 and M-FR3A-M8A Track Handling Pack
Designed for use with M-5300-YA Track Lowering Springs
Track tuned by Ford Performance Engineers
Kit Includes:
Track Front Dampers
Track Rear Shocks
Front Strut Top Mounts
Front Strut Spring Retainer
Front Damper Anti-Squeak Pads
Strut Rod Nuts
Threadlock
Note: Does not work on vehicles equipped with MagneRide® suspension systems.

Note: When using Ford Performance Parts Track Lowering Springs M-5300-YA or any other aftermarket lowering springs it is recommended to use Ford Performance Parts Mustang Jounce Bumper Kit M-5570-B.
Note: Please reference a Ford Service Manual for installation information and correct torque specifications. May require alignment after installation.

Part Type
Chassis: Shocks / Adj Suspension
Warranty Availability
Not Available
Package Dimensions
15" x 10.75" x 28"
Package Weight
43.1 lb(s)
Country of Origin
United States