2015-2017 MUSTANG TRACK HANDLING PACK
This part is no longer available.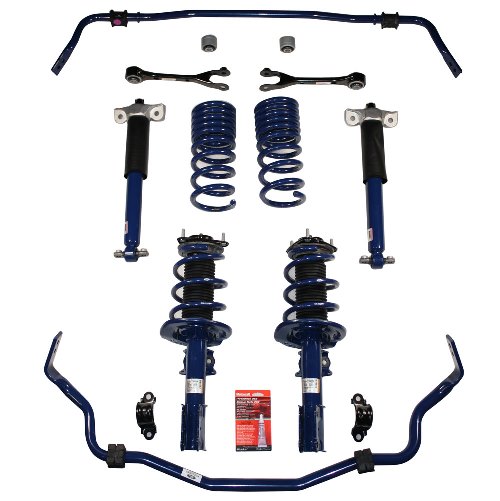 M-FR3A-M8

Ford Performance Parts assembled Track Handling Pack is the perfect suspension system for the driver who demands the most from their car on the track or on the street. Kit includes pre-assembled struts, which do NOT require a spring compressor, and are ready to bolt-in! Put a little "road race" into your Mustang with Ford Performance Parts Track Handling Pack
The Track Handling Pack is one of the most popular Ford Performance Parts upgrades for 2015-2017 Mustang. It is used on the 2016 Hertz Shelby GT-H Mustangs, 2015-2017 Shelby Super Snake and on the Ford Performance Racing School Mustang GTs
Fits: 2015-2017 Mustang GT and 2.3L EcoBoost Coupes

All components are designed to work together as a package

Lowers car approximately 1.0"

Gives a more aggressive-looking stance with a focus on handling and on track performance.

Will cause slightly harsher ride compared to stock springs
Track Handling Pack Includes:
For Replacement sway bar bushings use Track Sway Bar Bushing kit M-5490-BKD
NOTE: Please reference a Ford service manual for installation information and correct torque specifications. May require alignment after installation.
Part Type
Chassis: Handling Packs
Package Dimensions
17" x 31" x 22"
Country of Origin
United States