2021-22 F150 5.0L SUPERCHARGER KIT W/PRO POWER ONBOARD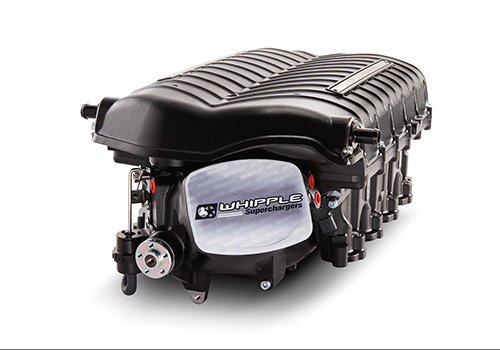 M-6066-F150SCB
Sold in Units of
Each (1)

The "Fifty States Street Legal" icon means that this part has been determined by the California Air Resources Board (CARB) not to have an adverse effect on emissions when installed and used properly in the application(s) identified in the product description. Under EPA and CARB policy, such parts may be installed in vehicles driven on public roads and highways.
Ford Performance Parts is pleased to announce the 2021-2022 F150 5.0L Supercharger kit for vehicles equipped with Pro Power Onboard. In partnership with Whipple Superchargers, the Ford Performance kit produces 700 hp at 6,500 RPM and 590 lb/ft of torque at 5,000 RPM.
Features the Gen 5x 3.0L Whipple Supercharger
Whipple exclusive inverted twin-screw design
Patented dual pass intercooler
Ford Performance exclusive calibration
Tomahawk calibration tool included
Fits 4x2 and 4x4 vehicles equipped with Pro Power Onboard (dual alternators)
CARB certified 50-state legal (E.O. #: D-231-77)
Engineered and tested to Ford 100k mile standards
3yr/36k mile FPP warranty when installed by a Ford Dealer or ASE certified technician
Premium fuel required
Part Type
Engine: Superchargers
Box 1 Dimensions
24" x 17" x 30"
Box 1 Weight
undefined lb(s)
Box 2 Dimensions
18" x 13" x 36"
Box 2 Weight
undefined lb(s)
Box 3 Dimensions
19" x 20" x 30"
Box 3 Weight
undefined lb(s)
Country of Origin
United States