2007 MUSTANG GT 550 HP SUPERCHARGER KIT BLACK WRINKLE FINISH
This part is no longer available.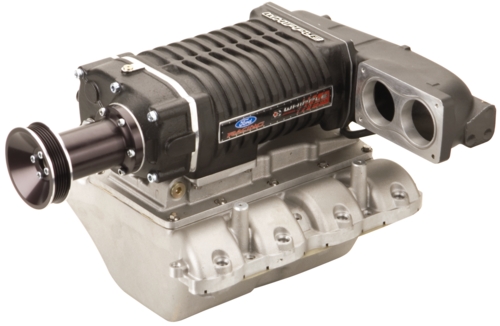 M-6066-M117

Black Wrinkle Finish. For Polished Finish see M-6066-M11P7
Fits 2007 Mustang GT with MANUAL transmission. For 2005-2006 see M-6066-M11, 2008-2009 see M-6066-M118, 2010 see M-6066-MGT550C
Produces 550 hp at 6000 RPM / 542 lb-ft at 4400 RPM with 93 octane at approximately 11 psi of boost
Kit includes:

2.3L Twin Screw Whipple Supercharger Assembly
Open air high-flow intake
Intake manifold
Complete air-to-liquid intercooler system
Dual Fuel Pump, fuel pump driver, and harness M-9407-GT05
Drive belt
32 lb/hr, 4-hole, high-impedance fuel injectors M-9593-MU32
FRPP 3V Cold Spark Plugs (16 mm) M-12405-3V0
Ford Racing ProCal tool with performance calibration for significantly improved throttle response and performance feel
A Certified Pre-owned Procal tool may be provided

Due to multiple powertrain calibrations, online registration is required to receive ProCal calibration delivery tool after purchase
Ford Racing does not ship ProCal tools directly overseas. Customers must make special arrangements with their Ford Racing Distributor
Powertrain calibrations are developed and supported for U.S. and Canadian vehicles only
Unlike our competitors, all Ford Racing Power Upgrade Packages are 50 state emissions legal
Federal and state laws prohibit any person from installing aftermarket add-on or modified parts prior to the sale of a new motor vehicle
Note:

2008 engines with late style 12 mm spark plugs can be identified by coil engineering number 8L3E
2005-2008 engines with early style 16 mm "High Thread" design spark plugs can be identified by coil engineering number 3L3E part number
All 2009 engines use 12 mm spark plugs
All spark plugs must be gapped from .032" to .035"
Superchargers are built to order. Please allow 7 days for assembly
Part Type
Engine: Superchargers
Warranty Availability
Not Available
Package Dimensions
42" x 24" x 48"
Package Weight
undefined lb(s)
Country of Origin
United States