2018-2021 MUSTANG GT 750HP SUPERCHARGER KIT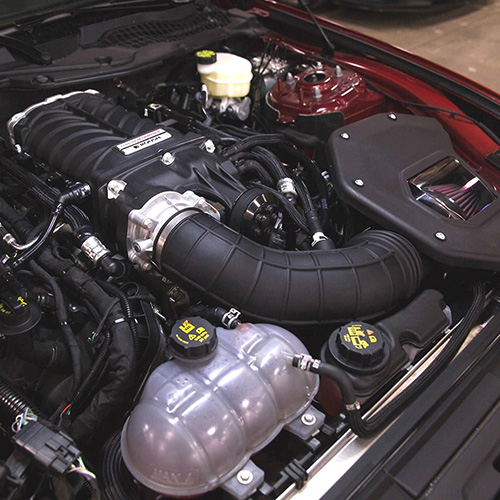 M-6066-M8
Sold in Units of
Each (1)

The "Fifty States Street Legal" icon means that this part has been determined by the California Air Resources Board (CARB) not to have an adverse effect on emissions when installed and used properly in the application(s) identified in the product description. Under EPA and CARB policy, such parts may be installed in vehicles driven on public roads and highways.

This new Mustang GT Supercharger has been developed by Ford Performance in partnership with Roush Performance, utilizing engineering expertise from both companies. Ford Performance and Roush are known for high-quality work, a vast support network, and having the utmost knowledge of the Ford powertrains with a working relationship that goes back 50 years.
The R2650 Supercharger features new TVS Technology. The new Twin Vortices Series features new four-lobe rotors and high-flow inlet and outlet ports that greatly enhance thermal efficiency, enabling greater volumetric capacity at higher revolutions per minute (RPM).
The Ford Performance Supercharger Kit is warranty friendly and rated at 750 horsepower. This new kit has been developed specifically for the new 5.0L V8 that features dual-fuel, high-pressure direct injection and low-pressure port fuel injection technology for increased power and efficiency.
Fits 2018-2021 Mustang GT with manual or automatic transmission

Produces 750 HP and 670 lb-ft of torque with 91 octane fuel

Kit comes complete with all hardware for installation

Exclusive calibration 50 state emissions legal with CARB EO (D-418-41)

NOT compatible with the Mustang Bullitt™ or Mach 1

For 2022MY Mustang GT see M-6066-M8MY22
Kit Includes:
2.65L Twin Vortices (TVS) Supercharger Assembly



Lower Intake manifold with integral air-to-liquid intercooler

87 mm electronic throttle body M-9926-M50B

Air inlet system

Fuel rails

Complete air-to-liquid intercooler system includes pump, heat exchanger and reservoir

Drive Belt: first sheave FEAD system

47 lb/hr, 6-hole, high-impedance fuel injectors

3-year/36,000-mile Limited Powertrain Warranty included when installed by Ford dealer or an Automotive Service Excellence (ASE) -certified technician

NOTE: Powertrain calibrations are developed and supported for U.S. and Canadian vehicles only. Federal and state laws prohibit any person from installing aftermarket add-on or modified parts prior to the sale of a new motor vehicle
Part Type
Engine: Superchargers
Packaged Dimensions
23" x 38" x 18
Country of Origin
United States