MANUAL TRANSMISSION FLYWHEEL STEEL 157 28.2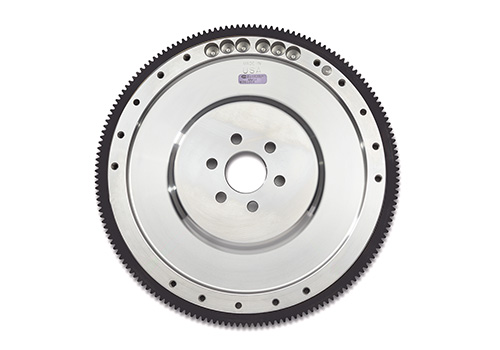 M-6375-A302B
Sold in Units of
Each (1)
Instruction Sheet
Not Available
| | | | | | | | |
| --- | --- | --- | --- | --- | --- | --- | --- |
| Part Number | Material/Weight | Clutch Damper assembly counter bore | Ring Gear | Crank Bolts | Unbalanced | Application | Foot Notes |
| | Billet Steel 23 lbs | 6.00" | 157-tooth | 6-bolts | 28.2 oz.-in. | Pre-1981 302 engines and 351 engines using 157T flywheels with 10.5" diaphram clutch. Meets SFI 1.1 | 1 |
| | Aluminum 12 lbs | 6.00" | 157-tooth | 6-bolts | 28.2 oz.-in. | Pre-1981 302 engines and 351 engines using 157T flywheels with 10.5" diaphram clutch. Reduced rotating mass. Meets SFI 1.1 | 1 |
| | Cast Iron | | 157-tooth | 6-bolts | 50.0 oz.-in. | 1981 and later 302 engines. Direct replacement for 1986-1995 5.0 Mustang | 1 |
| | Billet Steel 23 lbs | 6.00" | 157-tooth | 6-bolts | 50.0 oz.-in. | 1981 and later 302 engines using 157T flywheels with 10.5" clutch. Meets SFI 1.1 | 1 |
| | Billet Steel 23 lbs | 6.00" | 157-tooth | 6-bolts | 0 oz.-in. | All small blocks using 157T flywheel, 10.5" diaphram clutch with 0-unbalance rotating assemblies. Meets SFI 1.1 | 1 |
| | Aluminum 12 lbs | 6.00" | 157-tooth | 6-bolts | 0 oz.-in | All small blocks using 157T flywheel, 10.5" diaphram clutch with 0-unbalance rotating assemblies. Reduced rotating mass. Meets SFI 1.1 | 1 |
| | Billet Steel 29 lbs | 6.25" | 164-tooth | 6-bolts | 0 oz.-in. | Fits 6-bolt crank 4.6 Mustang with 10.5" clutch and some 11" clutch applications with 6-bolt pressure plate. Does not fit 2005-2013 Mustang production clutch disc. Meets SFI 1.1 | 1 2 4 |
| | Billet Steel 29 lbs | 6.25" | 164-tooth | 8-bolts | 0 oz.-in. | Fits 8-bolt crank 4.6 Mustang with 10.5" clutch and some 11" clutch application with 6-bolt pressure plate. Does not fit 2005-2013 Mustang production clutch disc. Meets SFI 1.1 | 1 2 4 |
| | Billet steel 30 lbs | 6.00" | 164-tooth | 6-bolt | 28.2 oz.-in. | Pre-1981 302 engines and 351 engines using 164T flywheels. 10.5" Long, 11" Long and diaphram clutches Meets SFI 1.1 | |
| | Billet steel 30 lbs | 6.00" | 164-tooth | 6-bolt | 0 oz.-in. | All small blocks using 164 tooth flywheels with 0-unbalance rotating assemblies. 10.5" Long, 11" Long and diaphram. Meets SFI 1.1 | |
| | Billet steel 29 lbs | 6.00" | 184-tooth | 6-bolt | 0 oz-in. | Fits 1965 and newer 360, 390, 427 FE engines. 11" Long and diaphram, 11.5 and 12" Long clutches. Meets SFI 1.1 | |
NOTES: 1 Diaphragm clutch uses metric bolts and dowel pins. Requires metric pressure plate bolts N602549-S51M and alignment dowel pins D1FZ-6397-B or Ford Racing kit M-6397-A302. 2 4.6L engines may have 6 or 8 bolts to attach to the crankshaft.. Romeo built engines have 6 bolts and Windsor built engines have 8 bolts. All Cobra engines have 8 bolts. Contact the Ford Performance Parts Tech-line at 800-367-3788 for more information. 4 Requires bolt and dowel kit M-6397-A46 for 11" clutch applications.
Part Type
Engine: Flywheels
Warranty Availability
Not Available
Package Dimensions
14.5" x 1.75" x 14.5"
Country of Origin
United States