CLEVELAND BLACK ALUMINUM VALVE COVER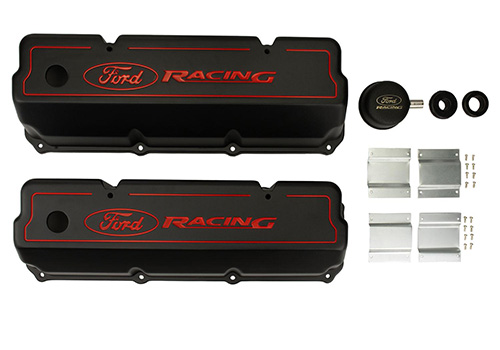 M-6582-Z351B
Instruction Sheet
Not Available
WARNING:

This part is designed and intended for competition use only or off-highway use only. It should not be installed on a vehicle that is driven on public roads and highways. Installation of this part on a vehicle driven on public roads and highways is likely to violate U.S. and Canadian laws and regulations relating to motor vehicle emissions.

Fits 1969-1970 BOSS 302/351C/351M/400
Die-cast aluminum with baffle
Satin finish
"Ford Racing" logo accent in red
Will clear stud girdle and roller rocker arms (4" tall)
Includes black oil fill cap and grommets
Part Type
Engine: Valve Covers
Warranty Availability
Not Available
Package Dimensions
14.5" x 6.5" x 23.75"
Package Weight
10.5 lb(s)