4.6L 4V CAMSHAFT DRIVE KIT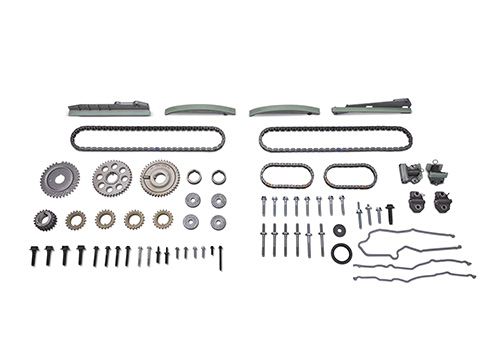 M-6004-A464
Sold in Units of
Each (1)
ATTENTION:

This part is intended as a replacement part for use only in the application(s) identified in the product description. Installation of this part in a vehicle for which it is not intended may violate U.S. and Canadian laws and regulations related to motor vehicle emissions.

Camshaft drive kit for the 4.6L 4 valve aluminum block
Fits 1996-2004 4.6L 4V engines
Will not fit 1993-1998 camshafts
Tensioner arms

Chain guides

Front cover gaskets and front main seal

Primary and secondary timing chains

Primary and secondary timing chain tensioners

Camshaft sprockets, spacers, bolts and washers

Crankshaft sprocket

Crank position trigger wheel

Includes fasteners
Part Type
Engine: Timing Drive Related
Warranty Availability
Not Available
Package Dimensions
9.5" x 4.75" x 21.5"
Country of Origin
United States