HIGH STRENGTH FORGED STEEL 3.40" STROKER CRANKSHAFT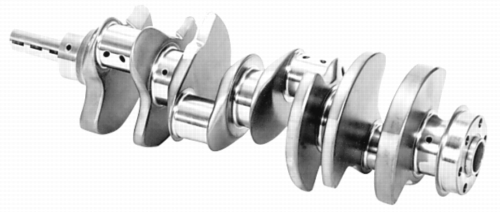 M-6303-C340
Sold in Units of
Each (1)
Instruction Sheet
Not Available
WARNING:

This part is designed and intended for competition use only or off-highway use only. It should not be installed on a vehicle that is driven on public roads and highways. Installation of this part on a vehicle driven on public roads and highways is likely to violate U.S. and Canadian laws and regulations relating to motor vehicle emissions.

M-6303-C340* Fits 302 production and Ford Performance cylinder blocks. Stock 2.1232" rod journal diameters. Use with "Sportsman" rods (5.40" long) and 1.090" CD pistons in standard 302 block for 347 cu. in. Features:
Lightening holes
Rounded CW leading edge, tapered trailing edge
Rod and main journals are nitrided and polished
Requires custom pistons, rods and balancing
Part Type
Engine: Crankshafts
Warranty Availability
Not Available
Package Dimensions
8" x 7.5" x 26"