Due to COVID-19 staffing precautions, the Ford Performance TechLine phone system is offline. We are still here to help. Live Chat is available. Click here for contact information.
SUPER COBRA JET MECHANICAL THROTTLE BODY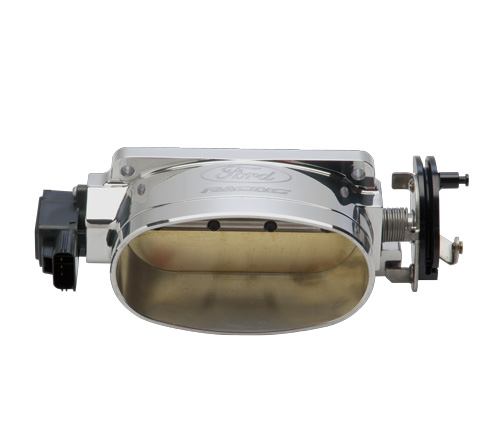 For those enthusiasts who want to run a late model engine with an aftermarket ECU that requires a mechanical linkage, Ford Racing offers throttle bodies to make the conversion easy. All mechanical linkage throttle bodies feature a 2003-2004 Cobra style linkage and throttle cable connection. Throttle cable and cable stop plate are not included and must be custom fabricated.
Our mechanical throttle bodies are legal for NHRA competition on the Mustang Cobra Jet, check www.NHRA.com for a full list of throttle bodies for the 2008-2012 Cobra Jet
M-9926-SCJM SUPER COBRA JET MECHANICAL THROTTLE BODY
Billet aluminum mono-blade throttle body
Used for 2010 Super Cobra Jet engine applications running aftermarket engine control unit
Note- Requires aftermarket engine control system
Part Type
Engine: Intake Related
Warranty Availability
Not Available
Packaged Dimensions
5.5" x 5" x 12
Packaged Weight
2.8 lb(s)
Country of Origin
United States