9MM SPARK PLUG WIRE SETS - "FORD RACING"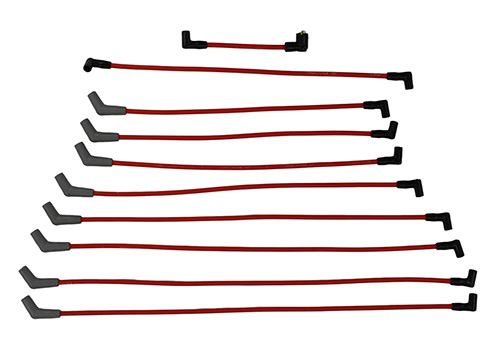 M-12259-R301
Sold in Units of
Each (1)
Instruction Sheet
Not Available
ATTENTION:

This part is intended as a replacement part for use only in the application(s) identified in the product description. Installation of this part in a vehicle for which it is not intended may violate U.S. and Canadian laws and regulations related to motor vehicle emissions.

9MM FORD RACING SPARK PLUG WIRE SETS
Wire-wound custom 9MM ignition wire sets feature low resistance for minimum spark loss. Silicone insulation and boots withstand high temperatures and voltage loss for minimum cross-fire and are highly resistant to fuels, oils and solvents. Long-life, tough stainless steel terminals for "post" type distributor caps. Includes coil wire for socket-type coil and "Ford Racing" identification. Cylinder number appears on each wire and is available in 4 colors: blue, black, yellow and red.

NOTES: Universal sets can be cut to length and assembled with a crimping tool. Includes terminals for post and socket type coils, plus easy to follow instructions.
Wire sets M-12259-C301/R301/M301/Y301/C302/M302 do not fit distributorless ignition system (DIS) 5.0L/302 Explorer engines. The universal wire sets do not fit distributorless ignition system (DIS).
Part Type
Electrical: Ignition Related
Warranty Availability
Not Available
Package Dimensions
7.75" x 3.25" x 9"