5.0L GEN 3 ALUMINATOR NA SHORT BLOCK 12:1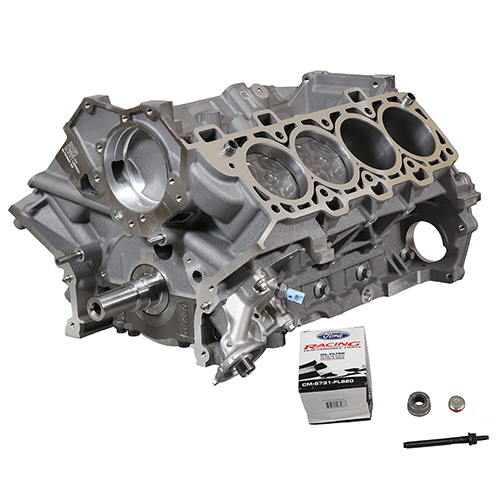 Just like the fully built-up engines, Aluminator Short Blocks are hand assembled and use Manley® connecting rods with ARP® rod bolts and Mahle® forged pistons. Two versions are available – 9.5:1 and 12.0:1 compression ratio.
These Aluminator Short Blocks serve as a strong foundation for the enthusiast that wants to spec and finish a Coyote build to his or her particular application and needs.
Ford Performance Engineers have taken care of the toughest part of building a new engine by designing a strong and durable Short Block that offers a wide range of power possibilities. And every Ford Performance Aluminator Short Block is precision internally balanced and hand assembled in the U.S. with performance clearances.
Ford Performance offers a number of components to finish the build.
Specs: Aluminator Short Block M-6009-A50NAB
5.0L - 302 cubic inches
12.0:1 compression ratio (nominal)
For 9.5:1 compression ratio version see M-6009-A50SCB
Mahle® hard anodized forged pistons with Grafal® low friction coating
Manley® H-beam connecting rods with ARP2000 bolts
2018+ (Gen 3) Production aluminum cylinder block features cross-bolted main bearing caps and thick main bearing bulkheads for bottom-end strength
Forged steel crankshaft
Fits Gen 1, 2, 3, or 4 and GT350 cylinder heads with corresponding generation head gasket
Assembled and ready for your Coyote heads, cams, timing set, and oil system
M-6675-M52 oil pan/pump or M-6675-M52S oil pan/pump recommended
M-6675-M50A1 oil pan with BR3Z-6622-A pick-up (Ford service part) and M-6600-50CJ billet oil pump recommended
Fully compatible with 2024+ Mustang 5.0L oil pan/pump/pick-up
Cams larger than 14mm lift require checking piston to valve clearance
Photo and specs may vary
Part Type
Engine: Short Blocks
Warranty Availability
Not Available
Package Dimensions
25" x 24" x 31"