5.3L MODULAR STROKER SHORTBLOCK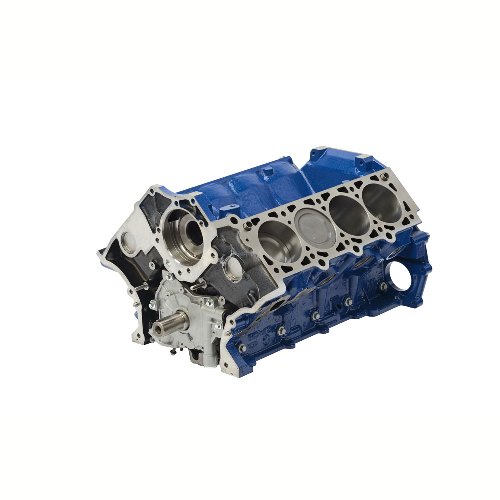 M-6009-B53
Sold in Units of
Each (1)
WARNING:

This part is designed and intended for competition use only or off-highway use only. It should not be installed on a vehicle that is driven on public roads and highways. Installation of this part on a vehicle driven on public roads and highways is likely to violate U.S. and Canadian laws and regulations relating to motor vehicle emissions.

Build BIG Modular Power. The Ford Performance 5.3L Modular Stroker short block is a great way to build modular power - from mild to wild - naturally aspirated or supercharged - 2 valve - 3 valve or 4 valve.
Ford Performance Engineers have taken care of the toughest part of building a new engine by designing a strong and durable shortblock that offers a wide range of power possibilities. Ford Performance uses only the best parts, starting with the BOSS Modular block, and adding forged Eagle steel crankshaft, forged Eagle H-beam connecting rods with floating piston pins, and forged Mahle pistons. Bored and stroked to 5.3 liters, this short block is precision internal balanced and ready to be finished to your specific application.
Engine type: 4.6L based Modular short block
Displacement (Liters/cu in): 5.3L/323 cubic inches
Bore x stroke (in): 3.701" bore x 3.750" stroke
Block: Ford Performance M-6010-BOSS50 Cast Iron performance block
Crankshaft: Eagle® 3.750-inch stroke forged steel crankshaft with 8 bolt flywheel pattern
Connecting Rods: Eagle® 5.850-inch forged steel "H" beam rods with ARP® 2000 bolts
Pistons: Mahle® forged aluminum pistons – with a dish that is compatible with 2, 3 or 4 valve heads
New high pressure oil pump
Neutral balance rotating assembly
Designed for 2, 3 or 4 valve cylinder head combinations (piston to valve check required depending on camshaft)
Assembled and ready for your heads, cam, and timing set
Note-2005-2010 Mustang 3V applications will need motor mount adapter part number M-6031-BOSS50
Part Type
Engine: Short Blocks
Warranty Availability
Not Available
Package Dimensions
25" x 24" x 31"
Country of Origin
Multiple Cntry Mfg. Locations