5.0L/5.2L BILLET STEEL GEROTOR OIL PUMP GEAR SET
This part is no longer available.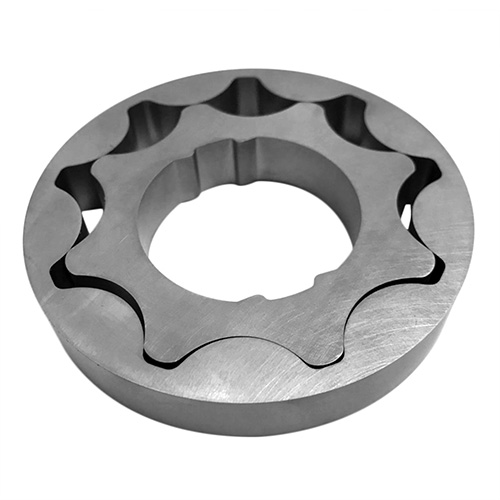 M-6600-M50A
Instruction Sheet
Not Available
This gear set is designed for race applications. These billet oil pump gear sets can be installed into a factory housing, and offer enthusiasts peace of mind. The stock powdered metal oil pump gears work effectively in stock applications but when additional horsepower, RPM, and/or the stress caused by belt mounted power adders or other, aftermarket setups are added-these billet gears can help to avoid a costly rebuild.
Fits:
2011-2020 Mustang GT 5.0L oil pump

2015-2020 Mustang GT350 5.2L oil pump
Produced by OEM manufacturer to minimum allowable tolerances

Requires installation in factory oil pump
For complete gerotor oil pumps with billet gear sets installed, see M-6600-50CJ, or M-6600-M52
Works well with 5.0L Coyote Oil Pump Installation Kit M-6600-A50PKIT
NOTE- Does not fit stock 2011-2018 F-150 5.0L oil pump. For 2011-2017 F-150 applications, use the M-6600-50CJ oil pump, for 2018 F-150 5.0L, use the M-6600-M52 oil pump

Part Type
Engine: Oil Pumps/Pans
Warranty Availability
Not Available
Packaged Dimensions
3.5" x 3.5" x 0.5
Packaged Weight
0.95 lb(s)
Country of Origin
United States