The Ford Performance TechLine phone system is online. Call us at 800-367-3788.
For the hearing- or speech-impaired: Please contact the Telecommunication Relay Service by dialing 711.
5.0L CAST IRON MODULAR BOSS ENGINE BLOCK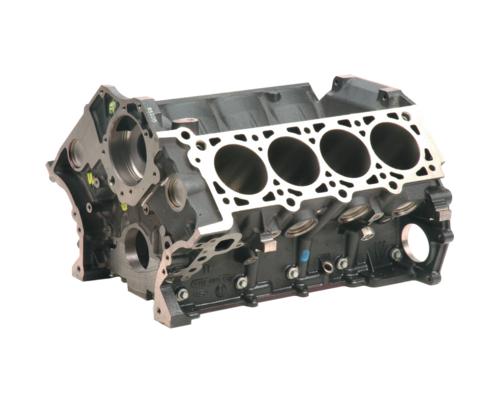 The Boss 5.0 block is a 4.6L deck height, 94mm cylinder bore cast iron block. The block uses a proprietary iron mix to yield the strongest possible casting strength with the least porosity and greatest consistency.
NOTE: The Boss 5.0L modular block does not have a finish milled head deck surface and the cylinder bores are rough honed.
Siamese 94mm bore
17mm main web minimal thickness
4 Bolt main with interference fit nodular iron machined caps
Increased main web window size for improved crankcase breathing
Head gaskets for 3V applications use M-6067-3V50 for all others contact Cometic® Gasket
For installation in 2005-2010 Mustangs use engine mount adapter M-6031-BOSS50
Weighs approximately 165 lbs
Part Type
Engine: Engine Blocks
Warranty Availability
Not Available
Packaged Dimensions
19" x 14.5" x 21
Packaged Weight
180 lb(s)
Country of Origin
United States