Due to COVID-19 staffing precautions, the Ford Performance TechLine phone system is offline. We are still here to help. Live Chat is available. Click here for contact information.
5.0L CAST IRON MODULAR BOSS ENGINE BLOCK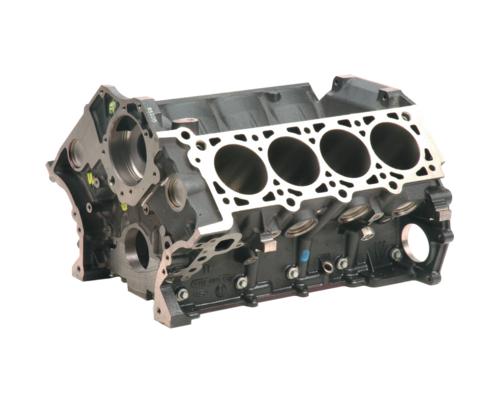 The Boss 5.0 block is a 4.6L deck height, 94mm cylinder bore cast iron block. The block uses a proprietary iron mix to yield the strongest possible casting strength with the least porosity and greatest consistency.
NOTE: The Boss 5.0L modular block does not have a finish milled head deck surface and the cylinder bores are rough honed.
Siamese 94mm bore
17mm main web minimal thickness
4 Bolt main with interference fit nodular iron machined caps
Increased main web window size for improved crankcase breathing
Head gaskets for 3V applications use M-6067-3V50 for all others contact Cometic® Gasket
For installation in 2005-2010 Mustangs use engine mount adapter M-6031-BOSS50
Weighs approximately 165 lbs
Part Type
Engine: Engine Blocks
Warranty Availability
Not Available
Packaged Dimensions
19" x 14.5" x 21
Packaged Weight
180 lb(s)
Country of Origin
United States