2013-2014 MUSTANG GT TRACK CAL CALIBRATION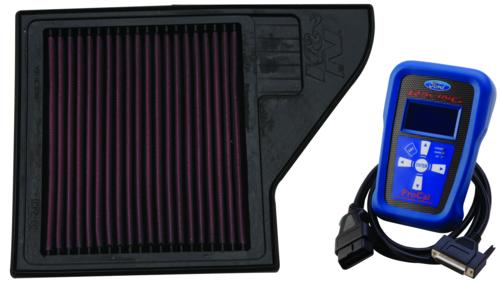 M-14204-MGTTC
Sold in Units of
Each (1)

The "Fifty States Street Legal" icon means that this part has been determined by the California Air Resources Board (CARB) not to have an adverse effect on emissions when installed and used properly in the application(s) identified in the product description. Under EPA and CARB policy, such parts may be installed in vehicles driven on public roads and highways.

TracKey and Track Cal are Ford Performance exclusive calibrations that provide added functionality to 2013-2014 Mustang GT's with manual transmission. TracKey is also available for 2012-13 Boss 302 owners here.
Both calibrations include these exclusive features:
Driver adjustable Launch Control, or "2-step engine speed limiting"




Driver adjustable Pit Lane Speed Control




Lopey idle




Improved engine performance- Up to 60 Lb-Ft at 1500 RPM & peak increases of 16 horsepower and 7 Lb-Ft on 93 octane fuel
Track Cal is supplied via the exclusive Pro-Cal flash tool. It is always active but lopey idle can be turned off. Available for all 2013-2014 Mustang GT's with manual transmission.
How does Track Cal work?
TracKey and Track Cal both contain exclusive calibration features designed for track use and derived from the same software algorithms and features employed in Ford Performance turn-key race cars such as the Boss 302R, Boss 302S, and Cobra Jet.
Engine performance is similar to the calibration available in the Ford Performance M-FR1-MGTB kit and modifies several PCM parameters including:
Twin Independent Variable Cam Timing (TiVCT)




Engine braking




Ignition timing




Wide-Open Throttle fueling




Accelerator pedal map




Idle speed




Throttle response
Track Cal for Mustang GT
Alter several thousand lines of code and several hundred calibration parameters




Are the only calibrations of their type that have gone through the rigorous Ford Performance test procedures




Are a 50 state legal aftermarket engine performance software upgrade for the 2013-2014 Mustang GT with Manual Transmission with CARB EO (D-598-14)
NOTE:

Federal and state laws prohibit any person from installing aftermarket add-on or modified parts prior to the sale of a new motor vehicle
Part Type
Electrical: Analyzers / Calibrators
Warranty Availability
Not Available
Packaged Dimensions
13.75" x 3.75" x 14
Packaged Weight
2.5 lb(s)
Country of Origin
United States