Due to COVID-19 staffing precautions, the Ford Performance TechLine phone system is offline. We are still here to help. Live Chat is available. Click here for contact information.
5.0L COYOTE ALUMINATOR SC SHORT BLOCK 9.5: 1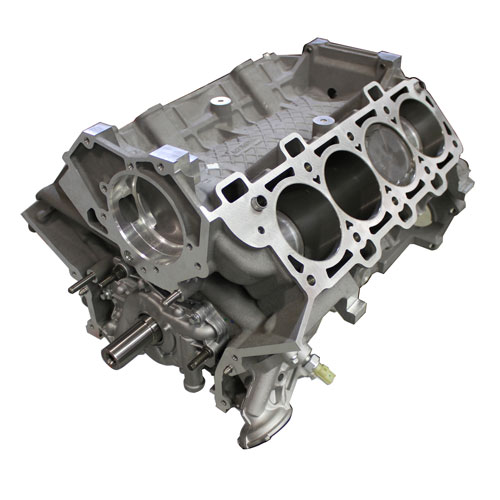 M-6009-A50SCA
Sold in Units of
Each (1)
Instruction Sheet
Not Available
WARNING:

This part is designed and intended for competition use only. It should not be installed on a vehicle that is driven on public roads and highways. Installation of this part on a vehicle driven on public roads and highways is likely to violate U.S. and Canadian laws and regulations relating to motor vehicle emissions.

Just like the fully built up engines, Aluminator Short Blocks are hand assembled and use Manley® connecting rods with ARP® rod bolts and Mahle® forged pistons. Two versions are available – 9.5: and 11.0:1 compression ratio.
These Aluminator Short Blocks serve as a strong foundation for the enthusiast that wants to spec and finish a Coyote build to his or her particular application and needs.
Ford Performance Engineers have taken care of the toughest part of building a new engine by designing a strong and durable Short Block that offers a wide range of power possibilities. And every Ford Performance Aluminator Short Block is precision internal balanced and hand assembled in the U.S. with performance clearances.
Ford Performance offers a number of components to finish the build including the simple to install Controls Pack M-6017-504V to get it up and running in just about any vehicle – from Early Model Mustangs to resto-rods to classic muscle cars to street rods.
Specs: Aluminator Short Block M-6009-A50SCA
5.0L - 302 cubic inches

9.5:1 compression ratio (nominal)

For 11.0:1 compression ratio version see-M-6009-A50NAA



Mahle® hard anodized forged pistons with Grafal® low friction coating

Manley® H-beam connecting rods with ARP® 2000 bolts

2015-2017 (Gen 2) Production aluminum cylinder block features cross-bolted main bearing caps and thick main bearing bulkheads for bottom-end strength

Ford Performance M-6600-50CJ

High Performance billet steel gerotor oil pump and Pickup tube



Assembled and ready for your heads, cam, and timing set
Includes Gen 2 oil filter adapter
Photo and specs may vary
Part Type
Engine: Short Blocks
Warranty Availability
Not Available
Packaged Dimensions
19" x 31" x 25
Packaged Weight
207 lb(s)
Country of Origin
United States