Due to COVID-19 staffing precautions, the Ford Performance TechLine phone system is offline. We are still here to help. Live Chat is available. Click here for contact information.
BOSS 302 ENGINE BLOCK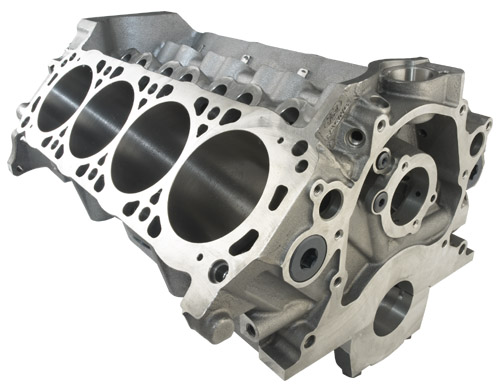 Ford Performance Engineers have designed the replacement for the legendary BOSS 302 and 351 blocks using the latest technology and manufacturing techniques from both the production and racing worlds. The BOSS block capability has been proven abound the world – both on the track and on the street. By preserving many of the dimensions and features from the original 289-351 blocks, the BOSS blocks are compatible as replacements for use in just about any vehicle that used a

Windsor style engine. Cast from diesel grade iron and designed with added material in key areas, BOSS block strength is far superior to any Ford OE block ever produced.


4.125" bore capacity, finished at 3.990" to 3.995" rough bore. Also available in big bore version, part number: M-6010-B302BB
8.2" deck height, finished at 8.200" plus .010" to .015"
Designed with optimized cylinder wall length for stroker applications up to 3.5" with no grinding or clearancing. (Depends on crank/rod manufacturer)
Splayed 4-bolt main on 2, 3, 4, main caps
2-bolt main on first and fifth main caps
Main bearing bores finished to low limit
Finished lifter bores
Machined to accept factory roller lifter guides and lifter guide retainer
Fits factory 1979 - 1995 Mustang oil pan with custom oil pickup tube, part number: M-6622-BOSS302
NASCAR inspired front oil feed on both lifter galleys.
Revised cooling system passageways
Siamese bore with drilled coolant crossover holes (Except on M-6010-B302BB)
Increased bulkhead material
Threaded core and galley plugs (straight thread port plugs with O-ring)
Requires special length 1/2" head bolts M-6065-BOSS or head studs M-6014-BOSS recommended with M-6049-X306/X307/X2/Z304DA/Z2 heads
Designed for use with the following heads-

X306
X307
X2
C3
D3
Z304DA
Z2

Not designed for the following heads

Production 302/351W
M-6049-Y302
Y303
X302
X303
X304
X305

Uses common OD cam bearings M-6261-J351/R351
Unique cam plug M-6026-S351 included
M-6051-S331 or M-6051-CP331 head gasket recommended
Designed to be compatible with vehicles equipped with the original 302 and 351W block
Designed to use stock type timing cover, M-6059-D351

recommended (includes fuel pump provision)

Fits factory Mustang oil pan with custom oil pick-up tube M-6622-BOSS302
M-6026-A Service Replacement Plug and Dowel Kit available separately:

Includes O-ring threaded plugs, black anodized aluminum plugs with Buna "O" rings for the oil galleys, water drains and core holes, and dowels for front cover, clutch housing and cylinder heads

Retains clutch cross shaft pivot hole
Original Style oil filter location
Original motor mount boss locations
Original bell housing pattern
Weighs approximately 175 lbs.
Great price and value
The foundation for 8.2" deck projects
Proven performance - used in Ford Performance sealed 347cid race engines and Ford Performance high performance crate engines, a proven winner out of the crate and thousands of laps before rebuild.
Part Type
Engine: Engine Blocks
Warranty Availability
Not Available
Packaged Dimensions
19.5" x 15" x 23
Packaged Weight
210 lb(s)
Country of Origin
United States