HIGH PERFORMANCE HYDRAULIC ROLLER CAM LIFTERS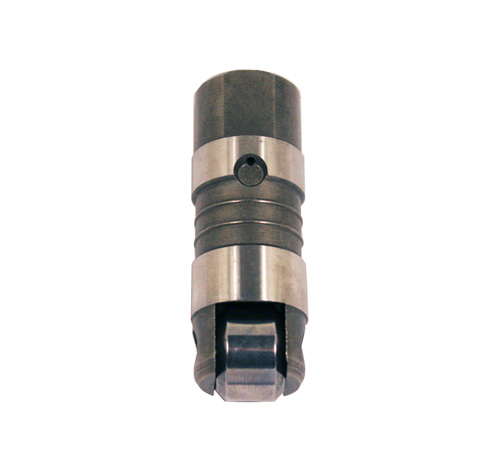 M-6500-R302H
Sold in Units of
Per Sixteen (16)
Instruction Sheet
Not Available

It's not often that little changes can deliver big results - but in the case of the Ford Performance R302H Lifter that's exactly the case.
Before getting into the technical details of the lifter - here's the background on why and how this special lifter was developed by the Engineers at Ford Performance. Circle Track racers that use the production hydraulic roller lifter in 347 Crate Engines reported that their engine seemed to lose power during long green flag runs. Dyno testing by Ford Performance engineers confirmed that - and showed a dramatic performance fall off over 6,000 rpm with hot oil temperatures. The problem was traced to the piddle valve check ball - that would become unseated at high RPM when the oil got hot. The fix was a lighter weight ceramic piddle valve check ball combined with a higher rate piddle valve spring to keep it seated. The results of these 2 small changes were impressive - and noticeable by the racers. The power range was extended 3-400 RPM in hot operating conditions - and more importantly, the performance fall off on those long runs was gone.
This unique lifter construction for a drop in hydraulic roller lifter is an exclusive from Ford Performance and fits any small block Ford roller cam application. While the R302H was developed specifically for racing conditions, it's the right choice when assembling a high performance small block that uses a hydraulic roller camshaft.
High Performance hydraulic roller tappet recommended for performance and racing applications
Modified OEM lifter features ceramic check ball and higher rate piddle valve spring to improve performance at higher RPMs and higher oil temperatures
Ford Performance dyno tests have shown 300 to 400 RPM increase in RPM range over stock OEM type hydraulic roller lifter in Ford Performance sealed crate engines
Direct replacement for the OEM small block hydraulic roller lifter applications
Uses OEM dog-bone type tie bars and retainer plate components included in M-6253-A50 Roller Cam Conversion Kit
Sold in a set of 16 lifters
| | | |
| --- | --- | --- |
| PART NUMBER | APPLICATION | TYPE/DESCRIPTION |
| M-6500-R302** | All Roller Small Block | Hydraulic roller tappet OEM replacement. |
| M-6500-R302H | All Roller Small Block | High Performance hydraulic roller tappet recommended for performance and racing applications. Direct OEM lifter size replacement |
| | | |
High Performance Hydraulic Roller Cam Lifters (PDF)
Part Type
Engine: Cam/Tappets/Pushrods
Warranty Availability
Not Available
Packaged Dimensions
4.5" x 2.75" x 6
Packaged Weight
4.9 lb(s)