Due to COVID-19 staffing precautions, the Ford Performance TechLine phone system is offline. We are still here to help. Live Chat is available. Click here for contact information.
VALVE ROCKER ARM PEDESTAL SHIM KIT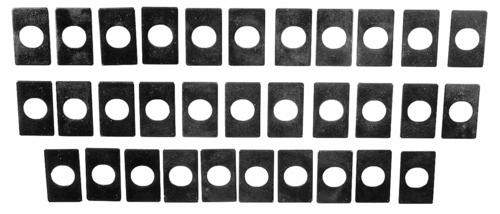 M-6529-A302
Sold in Units of
Each (1)
Instruction Sheet
Not Available
Fits 302 and 351 pedestal style cylinder heads like Ford Performance M-6049-X306 and M-6049-X307
Use with bolt-on roller rocker arms M-6564-A50, M-6564-B351, and -C351, to obtain correct lifter pre-load.
Shim kit includes 16 thin and 16 thick shims, which can be used to reduce lifter pre-load by 0.030" (thin shim), 0.060" (thick shim), or 0.090" (thin plus thick shim).
Part Type
Engine: Valves / Springs
Warranty Availability
Not Available
Packaged Dimensions
4.75" x 1.5" x 3.5
Packaged Weight
0.1 lb(s)
Country of Origin
United States