N351 FORD RACING "SPORTSMAN" SHORT TRACK CAST IRON CYLINDER HEAD
This part is no longer available.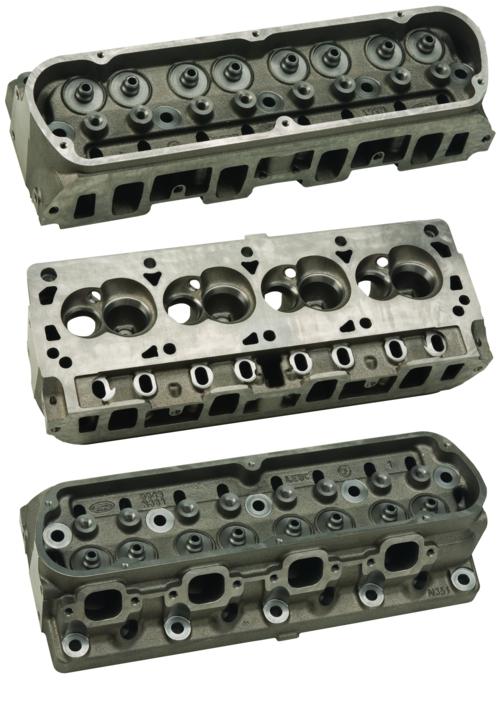 The N351 Sportsman cylinder head has been retooled and is now in stock and ready to ship. Designed for Ford engines in NASCAR Late Model Stock Cars, IMCA, WISSOTA, UARA, and most other stock car sanctioning groups on 351W engines. Developed by Ford Racing with the help of Robert Yates.
Bare Head (64cc Chamber)
For use in NASCAR Late Model Stock, WISSOTA, I.M.C.A., D.I.R.T., and most other stock car sanctioning groups on 351W engines
Machined for 2.02-inch intake and 1.60-inch exhaust valve diameters
Intake and exhaust valves have been moved .070-inch to un-shroud the intake valve
Valve angle changed from 20 degrees to 10 degrees to further improve air flow
Intake port volume 200cc, exhaust port volume 82cc (+/- 2cc nominal)
Thick deck and reinforced structure for improved sealing, increased section thickness in critical areas and webbed rocker bosses for improved strength.

This head can be milled flat up to 0.150-inch, which will yield approximately a 42.0 cc combustion chamber volume.

Designed for stud mount rocker arms. Compatible with stock and Ford Racing intake M-9424-N302
These heads use .708-inch reach taper seat spark plugs
INSTALLATION NOTES
Uses Felpro® exhaust gasket part number 1427
Requires M-6564-F351 roller rocker arms with .150-inch offset intake pushrod cup (not included)
Requires M-6566-N351 pushrod guide plate
Unique header flange required
Check head bolt length, may require non-stock length head bolt.
M-6049-N351 New Tooling Identifier
N351 Sportsman Head Product Specs
Part Type
Engine: Cylinder Heads
Warranty Availability
Not Available
Package Dimensions
9" x 6.5" x 23"