The Ford Performance TechLine phone system is online. Call us at 800-367-3788.
For the hearing- or speech-impaired: Please contact the Telecommunication Relay Service by dialing 711.
302/351W "Z-HEAD" ALUMINUM - ASSEMBLED 63CC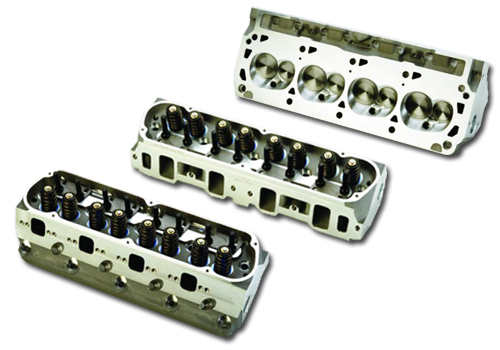 M-6049-Z304DA
Sold in Units of
Each (1)

The "Fifty States Street Legal" icon means that this part has been determined by the California Air Resources Board (CARB) not to have an adverse effect on emissions when installed and used properly in the application(s) identified in the product description. Under EPA and CARB policy, such parts may be installed in vehicles driven on public roads and highways.
Fits 302/351 Windsor engines
Cast from prime A356 T6 aluminum
Heads are cast with high-flow ports
20 degree inline valves
Premium stainless steel 2.02" intake M-6507-A304 and 1.60" M-6505-B304 exhaust valves

Uses PAC 1219X conical style valve springs with machined retainers and machined valve locks. Most hydraulic cams can be used with these springs.




Valve spring closed pressure - 145 lbs. @1.800"

Valve spring open pressure - 358 lbs. @ 1.175"

Includes laser cut guide plates M-6566-Z304D for use with 5/16" pushrods and 7/16" rocker studs (Rocker Stud PN is ARP DRP154)




Steel alloy intake and exhaust valve seats




Manganese-bronze valve guides




63cc CNC'd combustion chamber




Intake port volume as cast: 204cc




Exhaust port volume as cast: 85cc




Accepts both tapered seat and gasket style 14mm spark plugs (Motorcraft AGSP-32-PP, Autolite 3924, 3925)




Requires 1.65:1 or 1.5:1 ratio roller rocker arms with .150" offset intake pushrod cup (not included)




Raised exhaust port exit, custom headers may be required




Ford Performance M-9439-A50 intake manifold gasket recommended




Uses Felpro® exhaust gasket part number 1487




Felpro® VS13264T valve cover gasket recommended




Check piston to valve clearance including radial valve clearance before installing these cylinder heads on your engine



Warranty Availability
Not Available
Packaged Dimensions
8" x 24" x 8
Packaged Weight
27.2 lb(s)
Country of Origin
United States