302/351W "Z" ALUMINUM CNC PORTED, ASSEMBLED CYLINDER HEAD
This part is no longer available.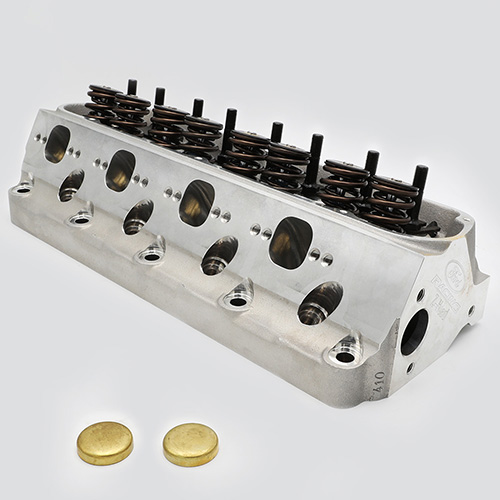 M-6049-Z304PA
Instruction Sheet
Not Available
Features:

Fits 302/351 Windsor engines

Intake and Exhaust airflow increased approximately 10% over Ford Performance "Z" heads
This cylinder head was designed using Solid Modeling Technology
Cast from prime A356 T6 aluminum
59cc CNC'd combustion chamber
Heads have CNC high-flow ports
20 degree inline valves
Valve sizes: 2.08-inch intake and 1.60-inch exhaust
Competition valve job and bowl blending
Steel alloy intake and exhaust valve seats installed
Manganese-bronze 11/32" valve guides installed with finished ID
Bare head weighs 27 lbs. Accepts both tapered seat and gasket style 14mm spark plugs (Motorcraft AGSP-32-C, Autolite 3924, 3925)
Requires guide plate M-6566-Z304D (not included)
Requires 7/16" screw-in studs (not included)
Requires 1.65:1 or 1.5:1 ratio roller rocker arms with .150" offset intake pushrod cup (not included-recommend Crower 72813X1 offset intake rocker arm)
Uses M-6505-B304 exhaust valve
Raised exhaust port exit, custom headers may be required
Check your intake manifold for port match; not all intakes are compatible due to the tall high-flow ports
Requires M-9439-ZP Intake manifold gasket
Uses Felpro® exhaust gasket part number 1487
Felpro® VS13264T valve cover gasket recommended
Check piston to valve clearance including radial valve clearance before installing these cylinder heads on your engine
Uses Felpro® exhaust gasket part number 1487
Part Type
Engine: Cylinder Heads
Warranty Availability
Not Available
Package Dimensions
9.5" x 6" x 22"
Country of Origin
United States