2017-2020 F-150 RAPTOR 3.5L CAT BACK SPORT EXHAUST SYSTEM - BLACK TIPS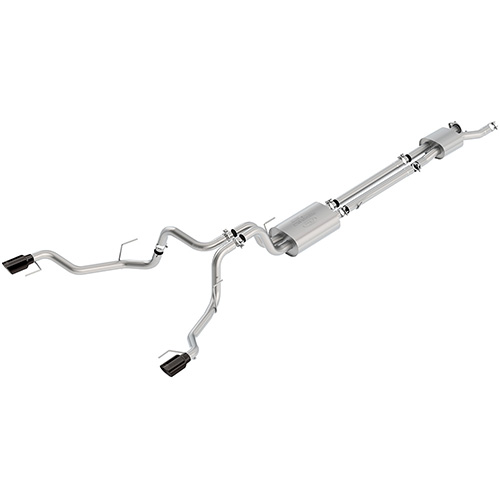 M-5200-F15RSB
Sold in Units of
Each (1)
Instruction Sheet
Not Available

The "Forty-nine States Street Legal" icon means Ford Motor Company has determined that this part does not have an adverse effect on emissions when installed and used properly in the application(s) identified in the product description and may be installed in vehicles driven on public roads and highways. However, this part does not have regulatory approval for use in California and can not legally be registered or used on vehicles in California. The use of this product in California may subject the user to penalty provisions under California law.

This Raptor exhaust system has been designed by Ford Performance engineers working with Borla Industries. It includes unique Ford Performance technology that is not used in other aftermarket systems. This design provides optimum performance and premium durability while eliminating the low-end (1,100-1,900 RPM) cabin drone that is inherent in some other aftermarket systems.
Fits 2017-2020 F-150 Raptor with a 145-inch wheelbase. 133" wheelbase trucks require an additional mid-pipe listed below.
Uniquely designed and tuned with one 3" passive exhaust valve to provide optimum performance, aggressive sound, durability and pure driving excitement

Manufactured in the USA from high-quality 304 stainless steel
Features 2.75" exhaust pipe with ultra-smooth mandrel bends, warp-free flanges and superior craftsmanship
Dual rear exit with 4.5" black chrome plated stainless exhaust tips with embossed Ford logo
Does not require removal of spare tire
NOTE: 133-inch wheelbase Raptor requires M-5248-F15R133 Mid-Pipe
Part Type
Engine: Exhaust Related
Warranty Availability
Not Available
Package Dimensions
18" x 59" x 17"
Country of Origin
United States