2021-2023 F-150 2.7L, 3.5L & 5.0L F-150 EXTREME EXHAUST - BLACK - SIDE EXIT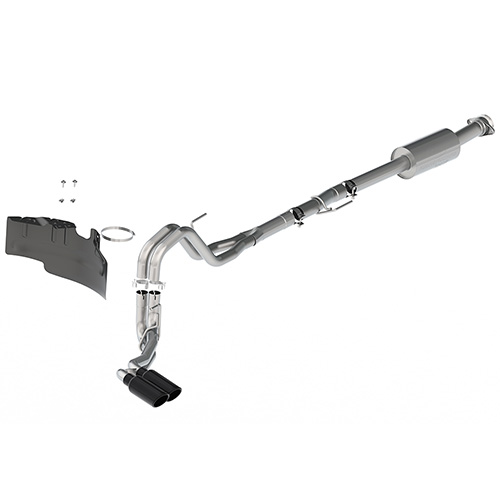 M-5200-FEBS
Sold in Units of
Each (1)
Instruction Sheet
Not Available

The "Forty-nine States Street Legal" icon means Ford Motor Company has determined that this part does not have an adverse effect on emissions when installed and used properly in the application(s) identified in the product description and may be installed in vehicles driven on public roads and highways. However, this part does not have regulatory approval for use in California and can not legally be registered or used on vehicles in California. The use of this product in California may subject the user to penalty provisions under California law.

Fits 2021-2023 F-150 2.7L & 3.5L EcoBoost® and 5.0L with 145" & 157" wheelbase. 157" wheelbase trucks require mid-pipe extension M-5248-FEXT
Extreme is our most aggressive exhaust sound yet!
Ford Performance Extreme exhaust systems are uniquely designed and tuned to provide an aggressive and throaty high-performance sound that is sure to enhance your driving experience
Manufactured in the USA from high quality 304 stainless steel
Features ultra-smooth mandrel bends, warp-free flanges and superior craftsmanship
Dual side exit with black chrome plated 4-inch stainless steel exhaust tips

NOTE: Does not fit any 3.5L PowerBoost® trucks

NOTE: Does not fit any 122" or 141" wheelbase trucks
Part Type
Engine: Exhaust Related
Package Dimensions
16" x 59" x 18"
Package Weight
54.5 lb(s)
Country of Origin
United States