2016-2017 MUSTANG GT 5.0L EC-TYPE CAT BACK EXHAUST SYSTEM - BLACK CHROME TIPS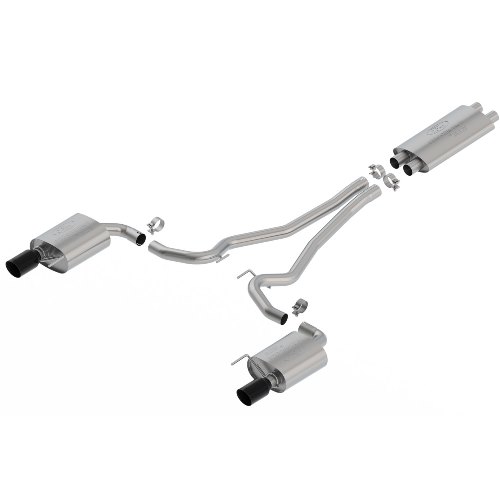 M-5200-M8GB
Sold in Units of
Each (1)
Instruction Sheet
Not Available

The "Forty-nine States Street Legal" icon means Ford Motor Company has determined that this part does not have an adverse effect on emissions when installed and used properly in the application(s) identified in the product description and may be installed in vehicles driven on public roads and highways. However, this part does not have regulatory approval for use in California and can not legally be registered or used on vehicles in California. The use of this product in California may subject the user to penalty provisions under California law.

This cat-back exhaust system bolts directly to the stock factory catalytic converters, making your Mustang 100% emission compliant while providing an aggressive muscle car sound. The tuned stainless steel mufflers with 4" chrome-plated stainless steel tips not only sound great but look great too.
NOTE: EUROPEAN SPEC EXHAUST SYSTEM
EC-Type-Approval Number: e1*70/157*2007/34*12412*00



Fits 2016-2017 Mustang GT 5.0L Coupe and Convertible
Bolts to stock catalytic converters
2.5" stainless steel mandrel bent cat-back tubing
4" black chrome-plated stainless steel tip
Uses

stock hangers and mounts
*Available while supplies last
Part Type
Engine: Exhaust Related
Warranty Availability
Not Available
Package Dimensions
16" x 53" x 13"
Country of Origin
United States