2015-2017 F-150 2.7L ECOBOOST CAT-BACK TOURING EXHAUST SYSTEM - REAR EXIT, CHROME TIPS
This part is no longer available.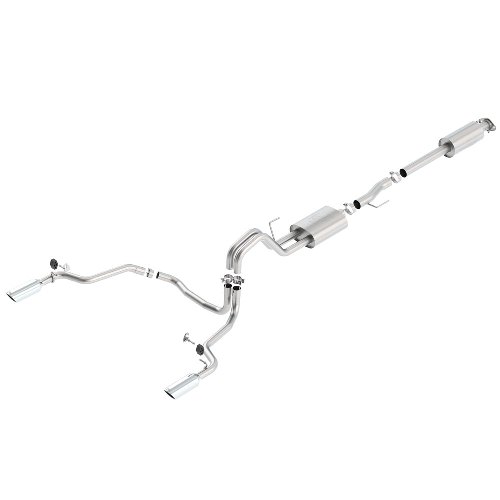 Fits 2015-2017 F-150 2.7L EcoBoost with 141" & 145",157" &163" wheelbase. 157" and 163" wheelbase trucks require additional mid-pipe listed below.
Ford Performance Touring exhaust systems provide a sound that is deep and throaty, but still remains within the 95 decibel drive-by noise standards.
Meets 95 decibel drive-by noise standard for aftermarket exhaust systems when installed on stock applications

Manufactured in the USA from high-quality 304 stainless steel
Features ultra-smooth mandrel bends, warp-free flanges and superior craftsmanship

Dual rear exit with black chrome plated 4-inch exhaust tips
NOTE: 141" wheelbase trucks require shortening the mid-pipe. Please refer to installation instructions.
NOTE: 122" wheelbase trucks will NOT work with Ford Performance 2.7L EcoBoost Touring Exhaust Systems. 122" wheelbase trucks will only work with Ford Performance 2.7L EcoBoost Sport exhaust systems: M-5200-F1527DSB, M-5200-F1527DSC, M-5200-F1527RSB or M-5200-F1527RSC
Alternative Wheelbases:
Part Type
Engine: Exhaust Related
Packaged Dimensions
16" x 13" x 60.5
Country of Origin
United States