5.0L COYOTE ALUM SC CRATE ENGINE REPLACED BY M-6007-A50SCA
This part is no longer available.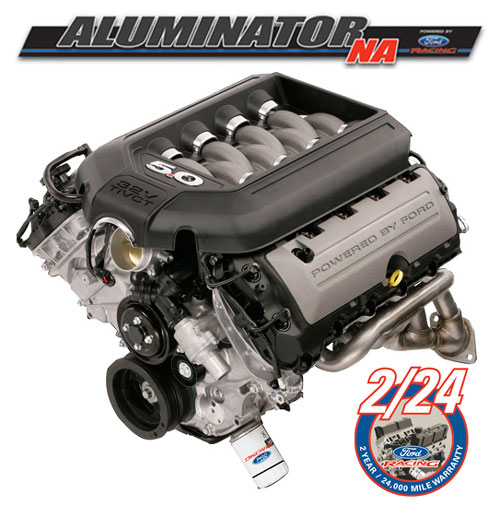 M-6007-A50SC

The Ford Performance 5.0L Coyote "Aluminator" crate engine is a modern 5.0L 32-valve DOHC V-8 that uses advanced features like Twin Independent Variable Camshaft Timing (Ti-VCT) to deliver big power. Unlike the factory 5.0L engine, the "Aluminator" is built with low compression forged pistons and H-beam connecting rods to meet the demands of forced induction.
Fits 2011-14 Mustang GT




5.0L (302 cubic inches)




9.5:1 compression ratio for supercharged applications (nominal)




Mahle® Hard Anodized forged pistons with Graphal® low friction coating




Manley® H-beam connecting rods with ARP® 2000 bolts




Forged steel crankshaft




Uses production 2011-14 Mustang GT aluminum cylinder block




Large rear sump oil pan with 8 quart capacity features optimized oil drainback and windage tray to control oil and improve high-rpm performance




Tuned composite Mustang GT intake manifold with production drive by wire 80 mm throttle body variable runner control




Four-valve-per-cylinder aluminum heads with roller-finger followers reduce friction




Boss 302 Valve Springs, M-6513-M50BR



Mustang GT production camshafts

Intake: 12mm lift 260 degrees duration
Exhaust: 11mm lift 263 degrees duration

Ford Racing engine cover kit M-9680-M50




Includes manual transmission engine injector harness




Front cover is modified for Ford Racing Supercharger Kits




For applications not using a Ford Racing Supercharger Kit, stock timing cover must be installed.




Includes colder, heat range zero (0) spark plugs for supercharging, part no: M-12405-M50




Includes Ford Racing oil filter, part no: M-6731-FL820




Includes billet steel gerotor oil Pump, part no. M-6600-50CJ




Vehicle harness and PCM not included. Use Ford Racing wiring, PCM and installation kit M-6017-A504V designed for street rod/project car installation.




Does not include alternator, for alternator kit see M-8600-M50BALT




Engine mount bosses and bell housing mount pattern common to 4.6L modular engines.




NOTE: Due to 9.5:1 compression ratio, custom tuning is required for optimum performance



Part Type
Engine: Complete Engines
Packaged Dimensions
41.75" x 42" x 37.75
Packaged Weight
544 lb(s)
Country of Origin
United States