363 CUBIC INCH 507 HP BOSS CRATE ENGINE-Z2 HEADS-FRONT SUMP PAN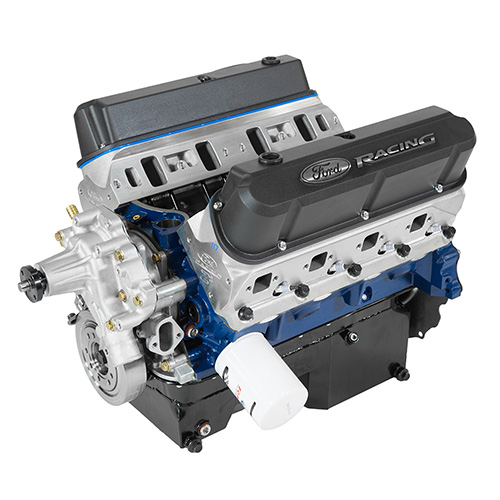 M-6007-Z2363FT
Sold in Units of
Each (1)
WARNING:

This part is designed and intended for competition use only or off-highway use only. It should not be installed on a vehicle that is driven on public roads and highways. Installation of this part on a vehicle driven on public roads and highways is likely to violate U.S. and Canadian laws and regulations relating to motor vehicle emissions.

New Z2 Cylinder heads with Velocity Vane
507 HP on Pump Gas - in a 302 Sized package

Built with the Best All New Parts

Uses standard SBF Headers and accessory mounts

From the guys that know Ford Performance Best – Ford Performance Engineers
507 horsepower @ 6500 rpm

450 lb. -ft. torque @ 5100 rpm

Click below to read the Mustang360 story on this engine:

Crate Expectations: Ford Performance Parts delivers the goods with its new Z2363 crate engines

Engine type: 302 based small block Ford

Displacement (cu in): 363

Bore x stroke (in): 4.125" bore x 3.400" stroke

Block: Boss 302 8.2 deck M-6010-BOSS302

Crankshaft: SCAT® Forged Steel

Connecting rods: SCAT forged steel I-beam connecting rods and ARP® bolts

Pistons: Forged Mahle® w/ floating wrist pins

Camshaft type: Hydraulic Roller

Camshaft lift (in): .580"/.602"

Camshaft duration (@.050 in): 232°/240°

Cylinder Heads Ford Performance Aluminum "Z2" Cylinder Heads M-6049-Z2

Valve size (in): 2.05" intake 1.60" exhaust

Valve Springs: PAC® 1219X Ovate Beehive

Compression ratio: 10.2:1 (nominal)

Rocker arms: Roller Rockers – 1.65:1 Ratio

Vibration Damper: Ford Performance SFI Approved

Valve covers: "Ford Racing" cast aluminum-black 302-135

Oil pan: high performance 7 quart capacity and windage tray / scraper

Water pump: Edelbrock® hi-performance

Includes Ford Performance M-9439-A50 intake manifold gaskets

Does not include distributor, intake and flywheel

Required fuel: Premium unleaded

Built with current available parts. Photo and specs may vary.

Engine installation tuning tips can be found HERE
Note: Results obtained using Edelbrock® Super Victor Intake Manifold and 750 cfm carburetor. This combination does not fit all applications
Part Type
Engine: Complete Engines
Package Dimensions
36" x 39" x 36"
Country of Origin
United States