460 CUBIC INCH 575 HP BOSS CRATE ENGINE-REAR SUMP PAN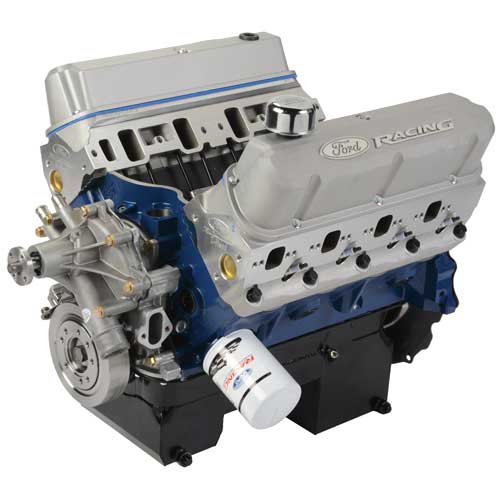 M-6007-Z460FRT
Sold in Units of
Each (1)
WARNING:

This part is designed and intended for competition use only or off-highway use only. It should not be installed on a vehicle that is driven on public roads and highways. Installation of this part on a vehicle driven on public roads and highways is likely to violate U.S. and Canadian laws and regulations relating to motor vehicle emissions.

Ford Performance has taken its Boss Block to the max with the biggest small block Windsor crate engine ever - the Z460. With 575 horsepower and 575 Lb. Ft. of torque, Z460 packs a pump gas fueled punch that works well on the street and on the track.
The foundation of Z460 is the legendary Ford Performance Boss block topped off with high port/high flow Z-Heads. Premium components from the best aftermarket companies are used throughout the engine, like a SCAT® forged steel crankshaft, SCAT® forged H-beam connecting rods, forged Mahle® pistons and Clevite® bearings. And every Ford Performance Z460 engine is hand assembled in the U.S. with performance clearances.
575 Horsepower @ 5,500 RPM
575 Lb.Ft. Torque @ 4,700 RPM
Engine type: 351 based small block Ford
Displacement (cu in): 460
Bore x stroke (in): 4.150" bore x 4.250" stroke
Block: Boss 351 9.5" deck
Crankshaft: SCAT® Forged Steel
Connecting Rods: SCAT® forged steel H-beam 6.125-inch length connecting rods
Pistons: Forged Mahle® w/ floating wrist pin
Camshaft type: Hydraulic Roller
Camshaft lift (in): .594"/.618"
Camshaft Duration (@.050 in): 242°/248°
Cylinder Heads: Ford Performance M-6049-Z304DA Aluminum "Z" Cylinder Heads
Valve size (in): 2.02 intake 1.60 exhaust
Compression ratio: 10.0:1 (nominal)
Rocker arm ratio: 1.65:1
Vibration Damper: Ford Performance M-6316-D302 SFI Approved
Valve Covers: Ford Performance 302-137 cast aluminum gray crinkle
Oil Pan: Rear sump (7quart) pan with louvered windage tray and crankshaft scraper M-6675-DRS351
Water pump: Ford Performance M-8501-G351 included - long type - standard rotation
Distributor: not included. Steel distributor gear required.
Required fuel: Premium Unleaded
Ignition timing: 32° at 4,000 RPM
Maximum recommended rpm: 5,600 RPM
Balanced: Internal use neutral balance flywheel
Recommended intake: Edelbrock PN 2924 Super Victor (not included)
New block, oil and water pump, performance oil pan and high-performance harmonic balancer
Engine power ratings achieved with Edelbrock® Super Victor intake, Holley® 850 CFM carburetor, long tube headers.
INSTALLATION NOTES
: Some or all of the following items may need to be changed from your original engine or modified for proper installation:
Depending on your application, a different timing cover, water pump, performance oil pan and pickup may be required.
Engine has a performance rear sump oil pan and pickup, standard rotation timing cover, standard rotation water pump and non-EFI valve covers.
Timing cover will work with most standard rotation water pumps
Fuel pump eccentric M-6287-B302 installed, allows use of mechanical fuel pump
Valve covers should fit most non-EFI applications. Optional valve covers sold separately.
The damper M-6316-D302 may require a spacer for pulley alignment.
Flywheel not included, use proper neutral balance flywheel
Intake manifold not included
Includes intake gaskets and pilot bearing
Firing order 1-3-7-2-6-5-4-8 (5.0L HO and 351W firing order)
Steel distributor gear required
Exhaust port raised 5/8" may require custom headers
Shipping weight approximately 570 lbs
Built with current available parts. Photo and specs may vary.
Engine installation tuning tips can be found HERE
Part Type
Engine: Complete Engines
Package Dimensions
36" x 39" x 36"
Country of Origin
United States