427 CUBIC INCH 535 HP BOSS CRATE ENGINE-Z2 HEADS-FRONT SUMP PAN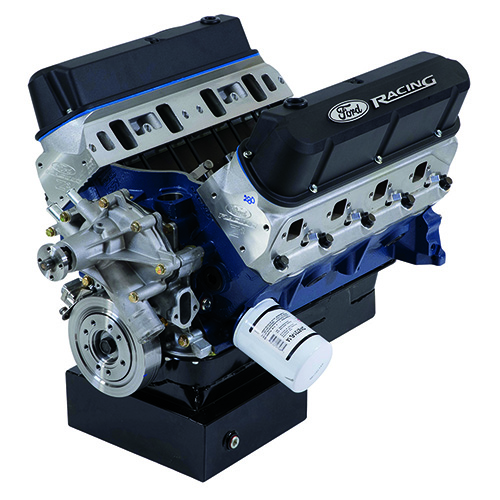 M-6007-Z2427FFT
Sold in Units of
Each (1)
WARNING:

This part is designed and intended for competition use only or off-highway use only. It should not be installed on a vehicle that is driven on public roads and highways. Installation of this part on a vehicle driven on public roads and highways is likely to violate U.S. and Canadian laws and regulations relating to motor vehicle emissions.

The company that created the famous 427 FE engine offers a modern version of the legendary motor. Built on Ford Performance's BOSS 351 block the 427 crate engine is engineered and built for drive-ability and durability while delivering big power.
Ideal for Ford projects requiring 500+ horsepower in a reliable small block package.
Now equipped with Ford Performance "Z2" Cylinder Heads-this head promotes improved power throughout the rpm range while retaining OEM exhaust and accessory mounting locations when compared to other aftermarket cylinder heads.
535 horsepower @ 5600 rpm 545 lb.ft. torque @ 4500 rpm
Engine type: 351 based small block Ford

Displacement (cu in): 427

Bore x stroke (in): 4.125" bore x 4.00" stroke

Block: Boss 351 9.5 deck

Crankshaft: SCAT® Forged Steel

Connecting Rods: SCAT® forged steel H-beam connecting rods and ARP® bolts

Pistons: Forged Mahle® w/ floating wrist pin

Camshaft type: Hydraulic Roller

Camshaft lift (in): .594"/.618"

Camshaft Duration – intake/exhaust (@.050 in): 242°/248°

Cylinder Heads: Ford Performance Aluminum "Z2" Cylinder Heads -M-6049-Z2
Valve size (in): 2.05 intake 1.60 exhaust

Valve Springs: PAC® 1219X Ovate Beehive
Compression ratio: 10.5:1 (nominal)

Rocker arms : Roller Rockers
Rocker arm ratio: 1.65:1

Vibration Damper - Ford Performance SFI Approved M-6316-D302

Valve Covers: Satin black, aluminum with "Ford Racing" script -302-135

Oil Pan: Steel with deep front sump pan with windage tray / scraper - 9 quart capacity -M-6675-FT351

Water pump: included long type - standard rotation

Distributor: not included. MSD distributor #85840 recommended (dist. modifications for intake clearance necessary)

Recommended fuel: Premium Unleaded

Ignition timing: 32° at 4,000 RPM

Maximum recommended rpm: 5,600 RPM

Balanced: Internally balanced - use neutral balance flywheel (not included)

Recommended intake: Edelbrock part # 2924 Super Victor (not included)

Front sump pan fits most kits cars without Mustang II suspension

New block, oil and water pumps, performance oil pan and high-performance harmonic balancer

Can be used in kit cars, street rods, Mustangs, cars and trucks

Water Pump included-standard rotation
Depending on your application, a different timing cover, water pump, performance oil pan and pickup may be required.
Engine has a performance front sump oil pan and pickup, standard rotation timing cover, standard rotation water pump and non-EFI valve covers.

Timing cover will work with most standard rotation water pumps

Fuel pump eccentric M-6287-B302 installed, allows use of mechanical fuel pump

Valve covers should fit most non-EFI applications. Optional valve covers sold separately.

The damper M-6316-D302 may require a spacer for pulley alignment

Intake manifold not included

Includes intake gaskets and pilot bearing

Firing order 1-3-7-2-6-5-4-8 (5.0L HO and 351W firing order)

Steel distributor gear required

Shipping weight approximately 570 lbs

Built with current available parts. Photo and specs may vary.

Note: Results attained using Edelbrock® Super Victor intake manifold and 770cfm carburetor.
Engine installation tuning tips can be found HERE

Part Type
Engine: Complete Engines
Package Dimensions
36" x 39" x 36"
Country of Origin
United States