The Ford Performance TechLine phone system is online. Call us at 800-367-3788.
For the hearing- or speech-impaired: Please contact the Telecommunication Relay Service by dialing 711.
2018 COBRA JET SUPERCHARGED 5.2L RACE ENGINE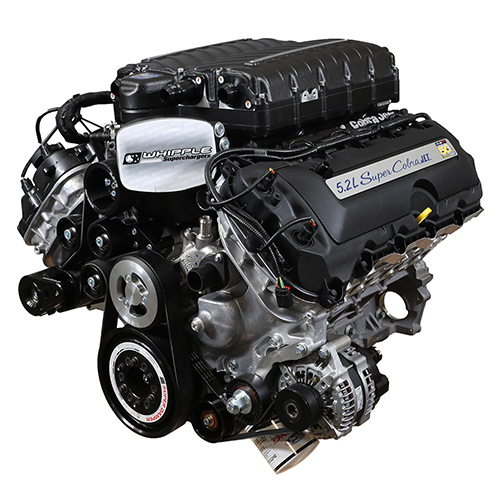 Engine used in the 2018 50th Anniversary Mustang Cobra Jet
LIMITED SUPPLY!!!!!
Supercharged Ford Modular V8, 5.2-liter displacement



Built using the Gen 3 M-6010-M52B 5.2L block

94 mm bore x 93 mm stroke

9.7:1 compression ratio

Forged GT500 5.2L steel crankshaft

Billet steel gerotor oil pump

Mahle forged and anodized pistons with Grafal® coated skirts

Manley H-beam connecting rods with ARP 2000 bolts

Unique Cobra Jet hardware:

Whipple Gen 5 3.0L supercharger kit

- (kits and service parts available from Whipple separately)
150mm Throttle body

95lbs/hr DeatschWerks injectors

- P/N 17U-00-0095-8

SFI-approved ATI crank damper - P/N

918066
PAC valve springs - P/N TVS 2340 80lbs closed/215lbs open
38.3mm Titanium intake valves
32.5mm Titanium exhaust valves

Note: The 2018 Cobra Jet will require an aftermarket speed density type controller to run.
Part Type
Engine: Complete Engines
Warranty Availability
Not Available
Packaged Dimensions
36" x 44" x 36
Packaged Weight
600 lb(s)