7.3L POWER MODULE W/10R140 AUTO TRANS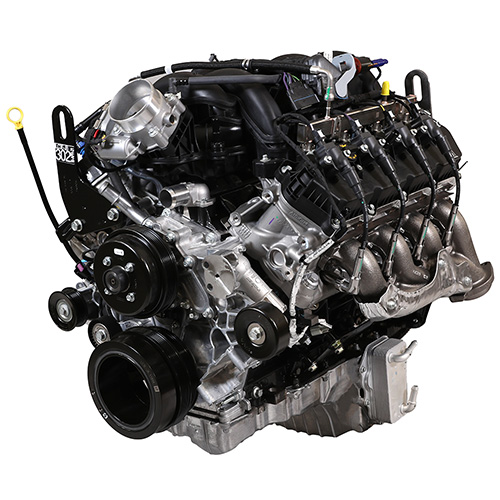 A complete powertrain solution utilizing the 7.3L V8 Ford gasoline crate engine from the 2020 F250 Super Duty and 10R140 automatic transmission (2WD). Kit includes:
M-6007-73
Super Duty crate engine
7.3L displacement
430 HP at 5,500 rpm
475 lb/ft of torque at 4,000 rpm
10.5:1 compression
Port fuel injection
PCM with Ford Performance calibration
electronic throttle pedal
Mustang Bullitt™ airbox
87mm Bullitt™ M-9926-M50B throttle body w/M-9474-M5087 adaptor
Alternator and bracket
Power steering pump
tensioner
Belt
installation hardware
Production Super Duty 10R140 transmission and torque converter.
transmission cooler
shifter cable assembly (no shifter)
mounting hardware
Part Type
Engine: Complete Engines
Box 1 Dimensions
36.5" x 44.5" x 36"
Box 2 Dimensions
48" x 42" x 35"
Country of Origin
United States