302/351W HIGH FLOW ALUMINUM CYLINDER HEAD
This part is no longer available.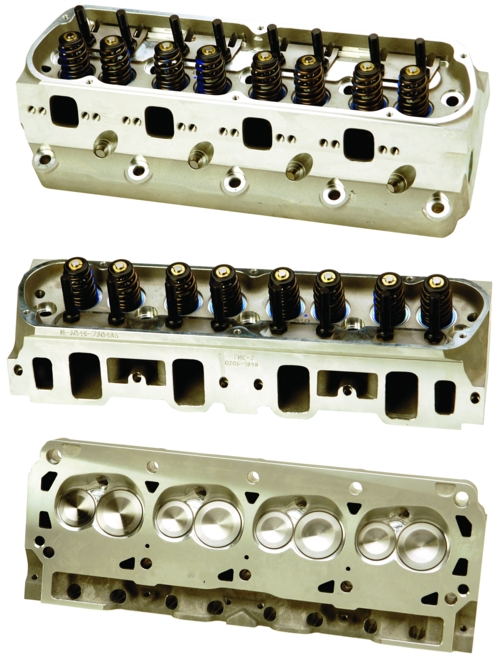 M-6049-Z304* Bare Head M-6049-Z304A* Complete Head
Fits 5.0L/5.8L Windsor engines
Heads cast with high-flow ports
Requires competition valve job and bowl blending
Suggested valve size 2.02" intake and 1.60" exhaust
Steel alloy intake and exhaust valve seats installed (no valve job)
Manganese-bronze valve guides installed with semi-finished ID
63cc CNC'd combustion chamber
Cast from prime A356 T6 aluminum
Intake port volume as cast 204cc
Exhaust port volume as cast 85cc
Bare head weighs 27 lbs.
Laser cut guide plates included
20 degree inline valve head
Accepts both tapered seat and gasket style 14mm spark plugs (Motorcraft AGSP-32-PP, Autolite 3924, 3925)
This cylinder head was designed using Solid Modeling Technology
Requires screw-in rocker studs and roller rockers (not included)
Uses M-6505-A304 exhaust valve and M-6507-A304 intake valve
Raised exhaust port exit, custom headers may be required
Assembled Head Features
Assembled for use on the M-6007-C347 and other 302/351W crate motors using hydraulic camshafts
Premium stainless steel 2.02" intake and 1.60" exhaust valves
M-6513-A351 valve springs with steel retainers and machined 7-degree valve locks. Most hydraulic cams can be used with these springs
Guide plates for 5/16" pushrods and 7/16" rocker studs included
Compatible with the M-6564-K351 roller rocker arms
Check piston to valve clearance including radial valve clearance before installing these cylinder heads on your engine
Cork valve cover gasket recommended
TYPICAL AIRFLOW (@ 28" OF H20 DEPRESSION) WITH 2.02 INTAKE VALVE, 1.60 EXHAUST VALVE AND COMPETITION VALVE JOB

LIFT
INTAKE FLOW
(SCFM)
EXHAUST FLOW
(SCFM)
.050
31.1
26.4
.100
64.6
55.8
.150
103.0
84.6
.200
135.3
113.3
.250
167.0
146.8
.300
199.0
171.6
.350
227.2
190.2
.400
245.2
200.4
.450
259.8
207.2
.500
271.9
212.8
.550
277.3
218.1
Part Type
Engine: Cylinder Heads
Warranty Availability
Not Available
Package Dimensions
6.25" x 10" x 21"
Country of Origin
United States